Katie Sawicki (5/22/2008)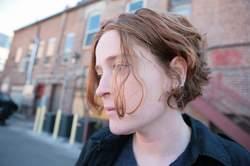 Seeing Katie Sawicki live is, quite simply, wonderful. I am currently listening to her album, and as she honestly tells her own stories, I am inspired to write a narrative as a review.
I went to see Katie Sawicki at The Living Room in the Lower East Side of Manhattan. It was a Thursday, and I was taking one my best friends to the show (she is my colleague as well, at a fairly dysfunctional charter school). We met for dinner beforehand, and promptly hit a wall; we were totally and completely exhausted. It had been a long, messy week, and we were falling asleep over our plates. We'd spent quite a bit of the week mad and fighting so much stupidity at work. I also was nervous about going to stay with a possible new lover the next day, and I worried that I wouldn't be able to give an honest review of the show, seeing as where I really wanted to be was at home sleeping.
We walked on down to the show, sat in the back, and said "no, thank you" to drinks from the waitress—too tired. We waited patiently through whoever was playing first; it was, um, nice, and... sleepy. This was so not helping. Then Katie took the stage.
She was cute as a button (can I say that in a review? I don't care. She is). And when she started to sing, well, I was drawn in. Katie has a heart-achingly beautiful voice that can go from powerful and mad to sweet and vulnerable in a note. She is a charismatic performer, an honest storyteller, and a talented musician. Her melodies and harmonies were so lovely, stirring all kinds of feelings beneath my ribcage. Her folk frankness was buoyed by the swell of gorgeously composed music and the deep, sweet sounds of a cello (we really liked the cello).
And here's what happened: I stopped being tired. I put my head on my friend's shoulder, snuggling into her, and she snuggled back. I had one of those moments of perfect love, where everything in me was radiating the happiness of being next to her, and with her, and able to love her. So, as much as Katie's songs are about lost love and leaving, the beauty of her music and her voice reminded me of the gift of the girl sitting next to me, and I was happy that I could let everything else just then be carried away on the notes as they left the back room. It is a moment I will enjoy holding for a long time.
This is the best praise I can give, and the only way I could write this review. I was exhausted, anxious, and heavy with life, and in an hour, Katie Sawicki—with her music and her stunning voice—made it all go away. It was, as I have said, a wonderful experience, seeing her live. If you can catch her, do. I hope she continues to tour, giving others a little respite from all the heaviness, too.