You Leave Me Here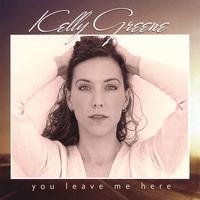 Kelly Greene's music sounds like a mix between a lot of new country and a little singer/songwriter rock, like Sheryl Crow, mixed with a dash of influence from the Cardigans. It is upbeat, toe tapping and, at some points, the flow of the music makes you want to sing along without knowing the words.
Although one must give her (and all other singer/songwriters) credit for writing her own music and lyrics with this album, it sounds a bit repetitive. All of the lyrics cover the exact same subject. For example, the chorus for the song "I Guess I Like the Abuse" reads, "I guess I like the abuse/Well I must 'cause I don't fight/I guess I like being used/'Cause I keep it all inside/And I just make an excuse/For the way you hold me down." Ten tracks about how love is not real. The lyrics read a little like poetry set to a beat, and each song ends with a uniform bridge.
If you can get past the repetitive lyrics, and don't mind that the music sounds basically the same on every track, the CD is honestly enjoyable. Kelly Greenw possesses a pretty yet powerful singing voice that draws in the listener and makes you want to hear what she has to say. Comfort can be found in her lyrics. They express an emotion that many women share. When you put your heart into something, or someone, and it fails, breaking your soul to bits, this album will let you know that you are not alone.