The Kept Man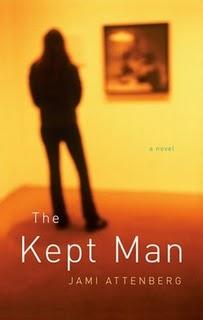 One thing I don't expect to find in a chick lit-type book* is a line like this: "The thing about fucking on coke is, afterward, there's no rolling over and going to bed." Oh. I'd never thought of that. In fact, much of this book elicits that response from me.
The premise of The Kept Man, when stripped of both clothing and flesh is, frankly, almost implausible: Jarvis Miller has been waiting for six years for her artist husband to either die or wake up from his coma. Ok, so that part isn't the most implausible part. Here it goes: Jarvis Miller's husband was a good artist. No, he was really good. No, he was so good she's been able to sell off his artwork and pay for his super-high-quality nursing care, and pay her bills, and keep her home, and not have to work. We meet her on the day she serendipitously encountered, engaged, and befriended three handsome male strangers—thus setting into motion a series of events which would change her life.
This, of course, is the problem with skeletons: somehow, when looking at the frame of a human form, it is impossible that those light, delicate, elegant, fragile structures could possibly support human weight. And, miraculously, they do.
It is true that Jarvis Miller's life does not model a 'standard' experience with health care, loss, relationships, nursing facilities, or laundromats. However, it seems just possible that any one person could have had precisely this experience. There are indeed artists, and these artists may indeed have wives. Some artists are indeed very talented, and talented people, like any others, may indeed suffer misfortunate accidents. There are some very good care facilities and some people, by fortuitous luck, are able to afford them. It is indeed possible to meet strangers and sometimes they do indeed become your friends. And change does indeed beget change. The effect is one of wryly humorous reality—it works.
I am delighted that the author did not choose a 'conventionally' happy ending, that she created a complex, dynamic female character (whether I would be her friend, I cannot say. But she is not one-dimensional) and that she abstained from moralizing her character's choices and experiences. And I was gently, soberly, realistically appreciative of the author's patience in revealing and discovering—to the reader as well as to Jarvis—the sometimes painful characteristics that defined Jarvis' marriage. Attenberg demonstrated marvelous control in her careful spinning forth of detail and revelation. An impressive first novel.
Disclaimer for transparency's sake: I am not calling this book chick lit, and I am not disparaging chick lit. This is certainly a book that will, generally, appeal to women and I—academic, grad student snob that I am—admit that the first thing I think when I see a fictional work whose primary market will be women is: "Hm? Where will this fit? Will this fit into a chick lit spectrum?"