Kilobyte Couture: Geek Chic Jewelry to Make From Easy-to-Find Computer Components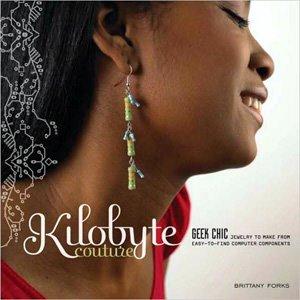 As someone who has recently begun making and designing jewelry using the standard materials—such as beads, chains, ribbons—I was impressed to see a book about jewelry made from computer parts. Yes, that's right, computer parts. Written by former Etsy seller Brittany Forks, Kilobyte Couture touts itself as "geek chic", but I think many of the designs and styles are simply chic! For many of the styles, if you weren't told it was made out of computer parts, you might never know. Forks literally transforms these "uncool and 'nerdy' things" and makes them "100 percent cute." It connects women to things that may have in the past been relegated only to men: computer technology. It's a fun way to creatively reclaim and rebrand what it means to be a geek while celebrating your love of uniquely geek-y things. There's everything from rings and bracelets to ID holders and Wii charms.
Forks tells the reader where to get the items you'll need—whether online, from Radio Shack, or from local universities. You'll also need some basic jewelry making tools from a craft store. There are vivid color pictures of the finished products along with detailed drawings of some of the more difficult (yet clear and easy to read) instructions. (As someone who teaches technical writing, I know clear and easy to follow directions are paramount!)
Kilobyte Couture isn't just about creating fun and unique jewelry. It's an historical celebration of technology as well. Scattered throughout the book are Top 10 lists of the best nerdy date activities, leading men, cities, books, and more. There is also a timeline that traces the components you'll be using for your jewelry back to the late 1800's, which is when the first radio signal was transmitted.
Kilobyte Couture will inspire you to be proud of your inner (and now outer) geek!