Ladyfest South (January 25-28, 2007)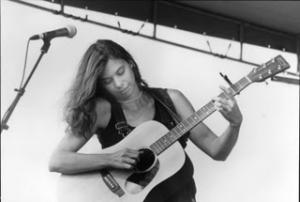 Ladyfest South is always a blast because it is back to back lady talent for a good cause. Ladyfest South 2007 happened over four nights at four venues in Atlanta and featured over fifty music and spoken word acts. This year's beneficiaries are The Rock N' Roll Camp for Girls and The Fund for Southern Communities.
Thursday January 25, 2007 - Eyedrum Art Space
Phat Man Dee from PA is amazing and fun to see. She sports interesting costumes and sings cabaret camp and pop. Julia Carroll is a "hard folker" from Gainesville Georgia, an Ani inspired, in your face young lesbian who sounds a little like Suzanne Vega, and whose style is a la Johnny Cash talk/sing. Julia's songs are fast paced and socially conscious. Julia has really grown in her voice, stage presence and guitar work. With her high cheek bones, thin frame, high energy and jeaned attire Nashville's Steff Mahan slightly resembles Michelle Malone. Steff is country folk, plays guitar as hard as Amy Ray, and really blew the crowd away with her impassioned performance and songs from hard time experiences. "God, Are You Mad at Me?" was about a lousy 2006.
This writer always loves to see Renee Mixon, from Rome, Georgia. Renee is a teacher with a fresh, clean, look and attitude. Her songs of love and loss are timeless, have rhythm, and are always interesting. The Morgan Rowe Band from Decatur was in top form as usual. Morgan is an amazing talent with a great band who deserves a wider audience. Morgan is a great, undiscovered talent.
Friday, January 26, 2007 - If Coffeehouse
Sabrina is a folk singer with a sixties style, powerful voice and message songs. Sabrina has a strong, commanding presence and gives advice in "Say So," and, "What R Y Waiting For," a fast paced diatribe against materialism. Atlanta's Barb Carbon is intimate folk. Barb draws us into her world. "I am not ok… the mystery of life is wearing me down." "Start Again" is haunting. Rana, from D.C is philosophical folk and like Mary Chapin Carpenter has a dry sense of humor. There is something expansive about Rana's style. Her voice reaches out with strong emotion and her guitar playing is clear, strong and simple.
Tiny Nicole Reynolds from Pittsburgh looks like a young Bob Dylan. Reynolds has a sweet, striking and very soft voice - like a whisper. Reynolds majored in jazz guitar in college, but her style is pure folk. She left her audience wanting more and "Wondrin," was amazing.
Friday, January 26, 2007 - The Earl
Box, a rock band from D.C. describes themselves as: "Really pissed off lesbians who drank a half gallon of whiskey… a pack of monkeys." Box has a lot of fun onstage. Their sound is strong and clean, one can hear the lyrics, and the song, "Holier Than Thou" is awesome. The vocalist can be a little off, but their sense of humor is right on. Also performed was "Lezzie's for the Lord," and "Mullet Head Girlfriend," all just right for the party atmosphere of Ladyfest South.
Oriflamme, from Gainesville, Georgia is a girl band with poppy punk electric guitars and two bass guitars. Their words are hard to hear, but the music is textured, interesting and not too hard. Atlanta's My Siamese Self, is rockabilly and punk garage rock, and featured some great guttural singing by the bass player. "Shrug Shoulder Hero" is a fine example of their unique style.
Saturday, January 27, 2007 - The 5 Spot
Easyell was a last minute fill-in, who really grabbed attention. A soul and folk singer, Easyell's voice and songs were haunting. Spoken word artist Ryka Aoki de la Cruz from Los Angeles also performed. Her poems address issues, such as abuse, and offer hope.
Sunday, January 28, 2007 - Eyedrum Art Space
Mare Wakefield from Nashville on guitar and vocals performed with her bassist. Wakefield is alt country with an attitude, as a mix of Natalie Merchant, Shawn Colvin and Dolly Parton. Wakefield blends sophisticated bluegrass, country and jazz with funny stories. Mare's voice is good and has rhythm, and her playing complements her singing. Wakefield performed "Love vs. the USA" and a break up ballad, "You've Done Enough." David and Roselyn from New Orleans performed with the rumba box, banjo, harmonica, trumpet and tambourine. Small Framed Boy from Atlanta, "Experimental, Psychedelic, and Progressive," closed out the night and the fest with their blend of noise, funk, rock and Middle Eastern elements.
The call goes out to other strong women who will step up to the plate and organize this amazing festival next time.
Tags:
alt country
,
bluegrass
,
country
,
feminist
,
folk
,
funk
,
jazz
,
Ladyfest
,
pop
,
pop punk
,
punk
,
rock
,
rockabilly
,
soul
,
spoken word