Leading the Way: Young Women's Activism for Social Change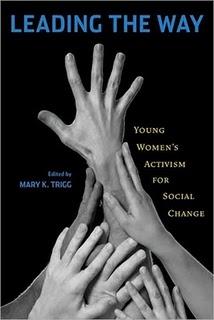 When I read Leading the Way, I felt the same way I did the first time I read Grassroots: A Field Guide for Feminist Activism by Jennifer Baumgardner and Amy Richards or Listen Up: Voices from the Next Feminist Generation by Barbara Findlen. I felt inspired, challenged, and optimistic about the future of feminism. I felt I had a road map of feminist ideas I could apply to my own life, and I knew I had incredible, real-life examples of women creating social change in their lives.
Leading the Way is a collection of essays straight from the pens—and hearts—of twenty-one young women activists. Their personal reflections are honest, illuminating, and sometimes raw. What makes this collection unique is that the authors all share a common experience in their feminist journeys: participation in the Rutgers University's Institute for Women's Leadership certificate program. The program is directed by the collection's editor, Mary K. Trigg. Trigg handpicked the authors and essays in this collection, and her choices represent a diverse, creative group of women who are applying the knowledge gained in the program directly to their lives.
Trigg also wrote the book's "Introduction," which provides a clear vision of where feminism is now, and where it is likely to go tomorrow. I found it to be incredibly informative and the perfect starting point from which to explore the numerous feminist issues contained in the consequent chapters. Contained in those chapters, the reader will find stories by women who are Latina, Muslim, gay, straight, White, African American, Asian American, musicians, writers, and much more. The women's stories are about their careers, relationships, academic studies, and communities. The women are doing amazing things with their lives, such as teaching English to young people in Kenya, promoting films created by women, and working as a nurse in Brooklyn.
For those who claim that women in their twenties are disengaged from feminist thought and activism, Leading the Way provides the proof that the new generation of young women are taking their leadership and their feminist activism seriously. These women are directly applying feminism to their lives, and their essays will move your toward creating more time for feminist activism in your own life.