The Lesser Tragedy of Death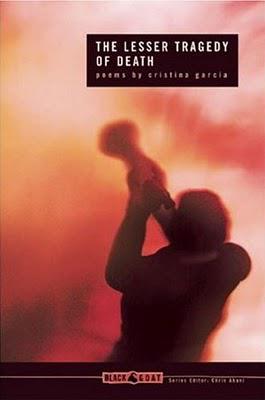 The Lesser Tragedy of Death is the first collection of poems by novelist Christina García, author of the superb Dreaming in Cuban. The poems offers an anguished narrative detailing García's brother's lifelong struggle with drug addiction. Despite the sorrow implicit in the material, the poems are so well-constructed that they are a pleasure to read.
García reaches back to her childhood in an attempt to trace the roots of her brother's problem. She wonders about the cause: was it the fact that he was the youngest child, receiving less attention than his older sisters who had been coddled and adored? The family's suffering under the Cuban revolution? Being beaten by his father and ignored by his mother? The hardship of beginning life anew in the United States?
García relates snippets of her brother's life and her response to his downward fall, but also imagines his response to her pleadings. Particularly damning are "Brownstone" and "Respuesta (Response)." In the former she details an occasion in childhood when their father beat him at the urging of his mother for a minor infraction; in the latter her brother claims that his older sister, so good with words, could have pleaded for her father to stop.
The family's disappointment and hurt is chronicled as much as his misdeeds. In "Mugging" García recalls a time when her brother was arrested for trying to steal the purse of an elderly woman, noting that no one in the family would bail him out of jail. Told from his perspective, the powerful "Ode" describes the joys of getting high, making a temporary alteration of consciousness seem like transcendence:
Sweet mother love shoots me skyward burning high with the moon and Orion and all the other heavenly dudes who orbit, orbit, orbit Planet Earth.
These instances allow readers to relate to this troubled man as something more than a hopeless loser, and to understand his motivation for engaging in risky behavior that ultimately alienates his family and friends.
Coming near the end of the volume, the heart-wrenching "Apologia" explains why García's parents did not to invite him to their fiftieth wedding anniversary party: a combination of fear of his behavior and shame of him. "Apologia" would have seemed harsh at the beginning of the collection, but by the time we reach it on page eighty-nine, we've seen how the brother has brought about such low expectations of his behavior. The Lesser Tragedy of Death succeeds because we are able to feel the hurt of the excluded son, as well as the family's suffering due to his self-destructive behavior.
For those who find poetry inaccessible or out of touch with everyday life, The Lesser Tragedy of Death offers a story that is immediately resonant, told in short poems that say volumes. García is by turns tender, frustrated, and empathetic in laying bare her painful relationship with her brother, and her language is simple, direct, and achingly honest.