Letters From Black America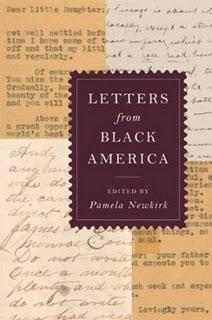 While it would help to appreciate and admire the historical importance of preserved letters, you don't have to be history buff or correspondence enthusiast to delight in Letters From Black America. In a time of quickly typed emails and SMS, tangible letters hold weight for many who value thoughtful, deliberate communication. In this compendium, Pamela Newkirk skillfully compiles an assortment of missives from the past three centuries that shine a light on the humanity and continued struggles of ordinary and exceptional African American men and women.
Divided into seven sections, the collection of 200-plus letters examines family dynamics during and after slavery, education as a locus for social activism, and Black military service from the Civil War to Iraq. In everyday yet often poetic language, details are revealed about married couples separated by the slave trade and babies born without the presence of their fathers. Open letters previously published in newspapers are included to showcase a wide range of letter writing and how it can be used as a tool to promote public discourse. Prominent Black artists and academics correspond and share visions of hope. One man proposes marriage and later asks to set a date, confirming his lady's affirmative answer, though the reader never knows what else was actually said.
While the collection does include an interesting cross-section of letter writers and receivers, many are notable figures in Black history, and many—like W.E.B. Du Bois, Langston Hughes, Derrick Bell Jr., and Booker T. Washington—have letters included in several sections. This is not without merit, but letters to and from prominent, highly educated Black leaders are more common than those passed between ordinary citizens. This does not diminish the significance of the selections. At times, it is rather helpful—if not necessary. The often-lengthy writings of Frederick Douglass, for example, comprise a significant part of the letters about politics and social justice. This is not a burden, but an opportunity. Many of these letters are not easily found, even in a time of ubiquitous technology and information. Each letter is introduced with background about the writer and recipient, and these small but critical details make Letters From Black America an incredible reference guide.
While many of the book's sections are enthralling—love letters from Martin Luther King, Jr. to Coretta Scott (King) and a coming out letter from Joseph Beam to his parents are particularly noteworthy—the climax of the compilation is the third section, "Politics and Social Change." Some of the most formative communication of our time is found here, including letters between Shirley Du Bois and Langston Hughes, Bayard Rustin and Eldridge Cleaver, and Toni Morrison to then-Senator and Presidential candidate Barack Obama.
To address the changes in communication over time, the book ends with letters from "Across the Diaspora." Communiqués between Pan-African leaders of the last hundred years, across oceans and decades, remind us that even as we move into a time when travel and the Internet make our work easier, we have come very far and yet have so very far to go.
This review is cross-posted on Girl w/ Pen.