Lilac Woods Massage Oil Spray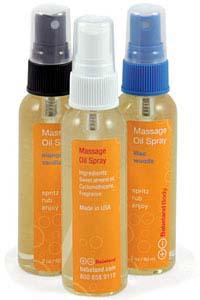 Even the creators of sex toys have decided not to stick it to Mother Nature anymore. Getting it on has gone green. Kiss latex and chemicals good-bye. As Babeland's witty press release summarily describes, its products are as eco-friendly as, say, fair trade coffee and organic vegetables. From rechargeable vibrators (no batteries in the landfill!) to organic, orgasm-inducing lubes, sensuality is trending decidedly au natural.
Lilac Woods Massage Oil Spray has a lovely, soft scent, but it didn't smell anything like lilacs or woods. Made with sweet almond oil containing a touch of fragrance, the scent wafts creamy, light and baby-powder fresh. Wonderfully aromatic without being overwhelming, the spray also feels deliciously silky against the skin.
But back to that fabulous press release: did you know that a female ferret will die if it goes into heat and cannot find a mate? Or that the average speed of ejaculation (28 miles per hour) beats a city bus moving at 25 miles per hour? Also, I was surprised to learn that only 44% of women between the ages of 18 and 60 have used a sex toy. Perhaps now with Mother Nature's permission, they will throw off their inhibitions and indulge.