Living Ghosts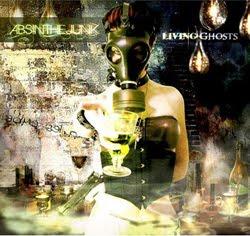 Attention all ye steampunk aficionados, Absinthe Junk accomplishes what their name implies—they're a fitting band for your gears, gadgets, corsets, and metal-worked jewelry! Their press album, Living Ghosts presents an adequate sampling of their haunting metal sound.
A time-tested combination of steely guitars and an ethereal lead female voice place the band solidly within a genre recognized by metal, rockers, and goth fans alike. The difference, however, is that Blair, the lead singer, dabbles in more than a soft-to-screaming vocal. She has a well-supported range and doesn't mimic an Evanescence sound. Listeners should appreciate this unique take on the genre and this original entry into the field.
Though the band claims many exotic textures layered within their sound, it is worth noting that the primary layer is metal guitar. Keyboard echoes are the next most recognizable supporting sound, but few tunes deviate as readily from a more traditional metal sound as the band purports. To their credit, the band has a few riffs and turns of musical phrase that remind a listener of Abney Park—a more recognized sound in the steampunk/goth genre. Building on the successful sound of this band isn't mimicry as much as a gesture that places Absinthe Junk solidly in this genre.
The most commercial song on the album is "Dragonflies in Hurricanes" and it's also the most off-genre. Displaying a haunting country sound, the Nashville-based band weaves a tale of the end of life, a love, a relationship—or all of it—with a more complete sound than the other songs. Blair's lead vocals are eerily reminiscent of Natalie Merchant and the band's support rounds out the song in a very recognizable way. Notably, the song feels very different than the rest of the album—which is quite good in its own right—but it is quite powerful.