Lonely Planet: Los Angeles & Southern California (2nd Edition)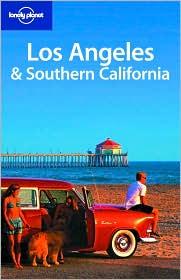 Writing guide books for cities as widely visited as Los Angeles can be challenging. One is faced with the question: what's left to write about? All the usual suspects make an appearance in the _Los Angeles & Southern California _entry of Lonely Planet's guide series: Universal Studios, Disneyland, Rodeo Drive, the Ivy. For readers – most notably L.A. and SoCal first-timers - the descriptions of these California icons are servicable, though they don't offer anything new.
As is expected with a guidebook outfit as thorough as Lonely Planet, there are loads of unexpected sites and entries, as well: the Museum of Tolerance, a must-see and much-needed antidote of reality for the artifice that can be pervasive in Los Angeles; a fun stop for history buffs, the Richard Nixon Presidential Library is also highlighted – which promises a revamped Watergate exhibit; for the science buff as well as the architectual fetishist, the Salk Institute, housed in a classic Louis Kahn building, is a popular stop; and entertainment junkies who tire of the film and television-oriented Los Angeles can travel to San Diego, which is home to the Old Globe Theaters that host the summer Shakespeare festivals (though fans of the Bard are cautioned that other works are also performed).
Like other Lonely Planet guides, this entry could've had more photographs; though there is a copious amount of maps, highlighting sites, restaurants, and hotels. There are four pages of features sites, all in attractive color pics. Another section, dubbed "SoCal Speaks" gives various locals (including Los Angeles mayor, Antonio Villaraigosa) a chance to trumpet their favorite part of Los Angeles. It's an interesting and harmless section, though more pictures of the city and the surrounding areas would be more helpful.
Another issue with the guide, though this could be attributed to the city it's reviewing, is how celebrity-mad the authors seem to be. Los Angeles is more than just superstar-country and the authors' constant name-dropping (even going as far as using the tabloid-friendly "first-name only" style – i.e. "Britney, Leo") only add to the cliché. That said, the book has a lot going for it, as long as readers get into the spirit of the kind of vacation a trip to Los Angeles is. It's not a cultural eye-opener that a jaunt to Sri Lanka or Kenya would be. And while it's easy to deride California as the cultural wasteland of the United States, a look through this book would set any narrow-minded prejudice straight.
The authors take a strong and critical look at Los Angeles in the opening sections of the book, giving readers socio and economic background information – an important point the book makes is that the richest and the poorest in the country live in Los Angeles. Rougher areas - like Compton and South Central - get mentions, though understandably, they're not as highly recommended as Beverly Hills or Santa Monica. It's commendable of the authors to mention these underserved areas; there is a great mention of the Watts Towers, and the authors make a point of not glossing over the Watts race riots.
Another difficulty the authors tackle with aplomb is the sheer volume of information available. There's a lot to see in Los Angeles and Southern California, and there are a lot of places to eat at and stay. The suggestions are helpful – they are broken down by area and price-range (though, potential visitors are warned in the opening section that Los Angeles is a prime destination for budget-travelers). The descriptions of the restaurants and hotels are personable and often include shout-outs to the owners, if they made impressions on the authors. There are also suggestions for shopping, and the authors make sure that out-of-the-way and unique shops get mentions as well (you can dress up like a storm trooper or a Klingon after a spree at It's a Wrap – a shop that sells wardrobe castoffs from TV and movie studios).
Gay and lesbian travelers can also use this book as a resource – though the information is pretty limited and there are loads of books that cater specifically to LGBT travelers. Still, there is a good amount of information about gay-friendly areas and businesses. As expected with the limited amount of space devoted to the subject, most of the information is not really all that new (West Hollywood is gay? You're kidding).
Traveling to California, of course, includes trips to the beach – the authors realize that the water would be a major spot for vacationers and do an excellent job in this respect. Beaches are well described, and activities (such as surfing and fishing) are highlighted in specific beaches that are best suited. Also, for surfing virgins, various surfing-lessons are listed, with prices.
A trip to California can be daunting to plan when faced with all that there is to do. Lonely Planet has mapped out all there is to do in Los Angeles and surrounding Southern California in an easy-to-read guidebook, which lets readers plan out their own itineraries. The sights are carefully separated according to location – so that when planning a trip, it's easy to check-off what you're going to visit. Major sights, such as Disneyland, get an exhaustive description and helpful tips (pricing, lodging, and eating). For more adventurous travelers, there are great points to visit as well. That this guidebook is very versatile isn't a surprise when looking at other excellent entries in the Lonely Planet's library.