The Lute Player: A Novel of Richard the Lionhearted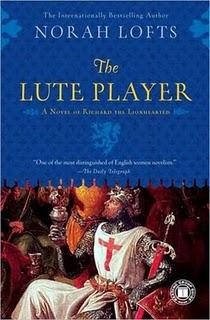 Like an exquisite medieval tapestry, The Lute Player, a novel of Richard the Lionhearted, has a bit of historical truth and a good measure of romantic fiction. There is historical evidence of the existence of Richard, Berengaria, Henry II, Eleanor of Aquitaine, and the leading power figures of the day. However, the lute player, Blondel, is mentioned only in legends. The true reason for Richard's indifference to his wife is subject to the author's imagination.
With well-crafted writing, Norah Lofts takes the reader to the time of the Third Crusades, to the medieval castles of Europe and to the sun-drenched landscapes of Palestine. This is the tale of Richard Plantagenet, son of Henry II, King of England and Eleanor of Aquitaine. The story of this legendary soldier of the Crusades and future king is told from the prospective of three very different individuals: Blondel, the lute player and Richard's close companion during the Third Crusade, Anna Apieta, the illegitimate half-sister of Berengaria, princess of Navarre and Richard's wife, and Eleanor of Aquitaine.
This is a tale of love. Berengaria falls in love with Richard at first sight of him during a tournament at her father's castle in Navarre. She will not consider marriage to any other suitor. After much pleading with her father, a suicide attempt, and many delays, Berengaria succeeds in her plan to become Richard's bride. But the marriage is ill-fated.
Blondel, the lute player to Berengaria and the King of Navarre, longingly loves the beautiful princess. He becomes lute player to Richard. Upon Berengaria's request to watch over Richard and as an escape from the life as the royal ladies' minstrel, Blondel joins Richard on the quest to liberate the Holy Land from the infidels. Anna Apieta, the physically deformed illegitimate daughter of Sancho, King of Navarre, loves Blondel but knows that it is a love that can never be fulfilled.
It is a tale of betrayal. Richard is determined in his pursuit to march triumphantly into Jerusalem. He is betrayed by his allies, Philip of France and Leopold of Austria. While on campaign in Palestine, Richard is betrayed by his brother, John, who is left to rule England during the king's absence.
The main characters in this novel evolve, the seemingly acquiescent become resolute and the tenacious become weak. The exceptions are Richard and Anna. The conclusion of this novel is very poignant. "But you come in the end to the place where your heart is, that is, if you set your heart in an attainable place. And it occurred to me that of them all I [Anna Apieta] was the only one who had done that."