make/shift: feminisms in motion (Issue 5)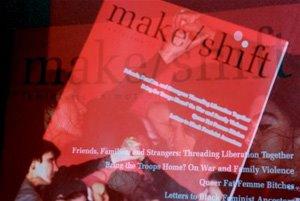 I am a magazine junkie, so much so that I look forward to spending time in airport terminals, subway cars, and doctor's offices just to feed my addiction. My drugs of choice—US Weekly, Elle Décor, and Gourmet—don't exactly resonate with my daily experience as a feminist, vegetarian writing a philosophy-heavy dissertation about performance art in a cramped Brooklyn apartment. Perhaps it's this disconnect that I find appealing, as I escape into the worlds of Jon & Kate Plus 8, this season's must have lawn accessories, and sausage on the grill. Reading make/shift represented an entirely different—if equally seductive—journey, one in which my activist and intellectual life was reflected on the page.
The magazine, published biannually in March and September, is more an academic journal than Bust or Venus but just as clever and far more relevant (to me, at least). make/shift both reports on and seeks to generate culture and action by fostering an expansive feminist dialogue. It features events (El Mundo Zurdo: Gloria Anzaldúa Conference), performers (Good Asian Drivers), and stories (sexual violence within activist scenes; celebrating the other F word—fat; and queer labor politics) that might be deemed uncool or unmarketable in another feminist publication.
Instead of hawking DIY cutesy crap and indie fashion make/shift features a regular column by Mattilda Bernstein Sycamore (author and editor of Nobody Passes and That's Revolting) and punk rock activist Nomy Lamm as a Dear Abby. I especially enjoyed the "Letter from the Editors," in which Daria Yudacufski and Jessica Hoffmann critique the economic growth model of publishing success and articulate alternate forms of sustainability for make/shift. Rather than "building up" the magazine (increasing print run or online presence), the editors are "building out"—reaching across divergent communities to create a heterogeneous dialogue and vision of feminism.
Photo credit: My Ecdysis