Mama PhD: Women Write about Motherhood and Academic Life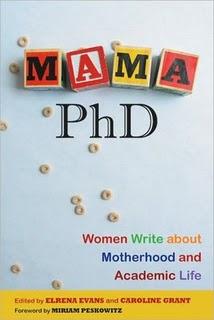 At the beginning of the second year of my MA program in English, I found out that one of my advisors was pregnant. I'll never forget what she said to me: "You know, you would think that academia would be a supportive place to have a kid. It's so not." She was a then-junior faculty member, and would put off going up for tenure for two years. 
When I started reading the individual essays in Mama PhD, I realized that my advisor's story was the rule rather than the exception. The collection is divided into four sections, "Part One: The Conversation"; "Part II: That Mommy Thing": "Part IV: Recovering Academic"; and "Part V: Momifesto."
You can find many of contributors in the online journal Literary Mama (especially the editors, Evans and Grant), though for the most part they represent a range of academic fields, from biology to philosophy.
For the most part, the essays in Mama PhD are concerned with capturing the deep ambivalence the authors feel in their abilities to balance parenthood and professional demands of teaching, committee work, and research. Indeed, some women, such as Jessica Smartt Guillon, depict experiences of pregnancies met with blatant hostility—even from mentors and colleagues who claim to be feminist. Others stories capture women's hard-won academic success in the midst of raising several children, like Leah Bradshaw's powerful essay "The Facts, The Stories."
But make no mistake: this collection is an unequivocal critique of the infrastructure—or lack thereof—in place for women who want to explore their identities as both mothers and intellectuals. The joint essay "Nontraditional Academics" issues a call for women who leave the academy temporarily or permanently to pursue their interest in full-time motherhood to stop hiding and join forces to build a community and increase visibility. While Mama PhD is certainly aimed for women in academia—and the men, women, and children who love them—those readers interested in feminist issues in the world of work will also find this collection a compelling and provocative read.