Mandarin Maximum Moisture / Sweet Orange & Silk Protein Styling Gel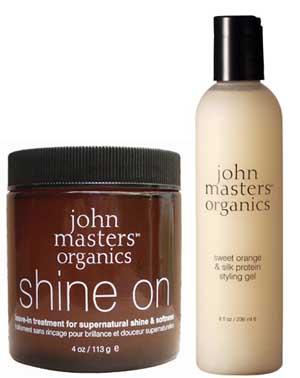 'Orange' is an unrhymable word. Of course, you can get around this by utilizing some poetic license. Willard Espy's "The Unrhymable Word: Orange" jams with enjambment by informing us that: "The four eng-/ineers/Wore orange/brassieres."
I don't own an orange brassiere, but I am fortunate to own both a rhyming dictionary and some fine John Masters Organics products.
Admittedly, I go for orange because I like the scent. The boom in orange-peel-based cleansing products has been a boon to me. John Masters Organics provides a less industrial option for spot removal, presenting a Mandarin Maximum Moisture 'concentrated revitalizer' with glycoproteins. Apparently glycoproteins are instrumental in skin and hormone metabolization, and some varieties function as antifreeze in the plasma of certain coldwater fish. The moisturizer applies light and clear, and reportedly reduces age spots with six weeks of consistent use. I do not have any age spots (yet), but I do find the cream enriching and refreshing. The alcohol-free hair gel likewise has a sweet scent and is not too heavy. John Masters has been running a 'clean air salon'—meaning that no services that require toxins (i.e., perms, manicures, and most coloring) are performed—for a decade and a half. Mr. Masters' products perform well, and I look forward to trying others.
Photo depicts Shine On Leave-In Hair Treatment and Sweet Orange & Silk Protein Styling Gel