Dance with the Wind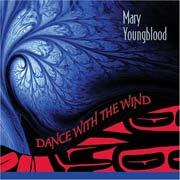 From the very first beat of Dance with the Wind, I knew that the music Mary Youngblood creates is pure magic. This was not just an auditory experience for me! I found myself listening with my heart and being moved at my very core.
Mary Youngblood, a Native American musical icon can make her wooden flutes speak to us beyond our everyday experiences by reminding us we are part of a "bigger whole." Of Aleut and Seminole ancestry, she was named "Flautist of the Year" at the Native American Music Awards two years in row and won a Grammy for Beneath the Raven Moon (2003). Being a classically trained multi-instrumentalist and composer, Mary Youngblood was one of the first tribal women to play an instrument not only reserved for ancient religious practices, but also exclusively to male performers!
Youngblood, breaking the binds of cultural and societal fetters, is the epitome of a strong spiritual woman. Her music will touch your heart, draw you up and make you look at the big picture we are all a part of.