Morning Music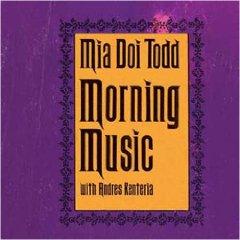 I'm one of those music nerds who, because of my incredibly broad tastes, finds herself taunted by other more self-conscious music nerds. I will give anything a chance. Anything. For example, I have no shame in admitting that I like those slightly contentious sub-genres known as free and avant-garde jazz. I especially love the music of Alice Coltrane, the late composer/multi-instrumentalist/wife of John Coltrane. Heavily reliant on harp and piano, and influenced by Indian mysticism, Coltrane's music is just as likely to be reviled as it is to be emulated. In the years following her death in 2007, a variety of artists have paid musical tribute to this underrated innovator, including English rocker Paul Weller (The Jam, Style Council) and American drone-metal duo Sunn O))). Although never mentioned directly, it is clear to me that Alice Coltrane's body of work also had an influence on Mia Doi Todd's latest album, the all-instrumental Morning Music.
Since 1997, Todd has released eight studio albums, a remix collection and an EP, three of which were Todd put out on her own label, City Zen Records; Morning Music is her latest self-released title. From the warm worn early-1970s look of the front cover to the inside close-up picture of Todd's fingers caressing a keyboard against a psychedelic backdrop, and right on to the beatific back cover image of she and album collaborator, percussionist Andres Renteria, the album seemed a dead giveaway to what lay in store upon listening. I was neither incorrect nor disappointed. This is not just "morning music" however.
This is Sun Salute yoga music. This is hot tea music. This is languorous stretching like a cat music. This is caftan and sandals music. This is soaking in the tub for an hour until you melt music.
The brief presence of background bird tweets and motorcycle engines toward the end of the fourth track, "Electrafficbirds One," not only jostles awake those listeners previously enmeshed in a soothing drone of sound, but also serves as foreshadowing of the (ever-so-slightly) more lively music to come. It never gets raucous, but things at least pick up a little.
The innocent melody of "Emotion" conjures fond memories in me of a favorite song from my childhood, the Joe Raposo-penned "Sesame Street" classic "Sing." The tunes have nothing in common, and yet to my ear certain notes in the latter recall the former. Perhaps it's how the piano, acoustic guitar and tin whistle all lope gently around each other.