The Mikvah Queen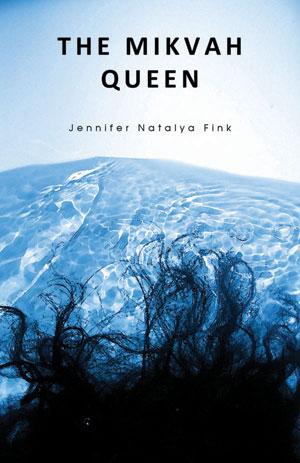 In The Mikvah Queen, the mind of Jane Schwartz bursts with a surprising mixture of Talmudic stories, '70s popular culture, and the stream of consciousness impulses of a preteen girl. Author Jennifer Natalya Fink gives us the story of a young woman who turns to her cultural and religious heritage for tools to aid her in approaching adolescence and beginning to understand herself in new ways.
In her imagination, Jane recreates herself as Leah, the older sister of Rachel, the beloved of Jacob in the book of Genesis. Jane's week peaks on Wednesday, when she enjoys private Talmudic study with Mike Silverstein. While her secular parents do not understand her interest in this deep level of religious study, they are supportive and drive her a distance. Jane's inner monologues reveal a crush on Mike, likely inspired by not only good looks but, more importantly, the knowledge which he opens to her. Jane creates an unusual diary, focusing on the mikvah, a special bath prescribed under certain conditions in Orthodox Judaism, and laws related to ritual purity.
In her quiet neighborhood, lacking close friends of her own age, Jane is drawn to her middle aged neighbor, Mrs. Charlene Walkeson, who is battling cancer. Jane pretends to be sick, plays hooky from school, and spends time at the Walkeson's house so she is not home alone. Her interest in religious laws of purity inspires a plan to make a healing mikvah for Mrs. Walkeson, in the process giving herself an opportunity to experience this important ritual. Once she gets this idea, she begins to hear God speaking to her ("Leah, my Leah, says God....it's time"), calling her away from mundane distractions such as dinner time and school work.
As a reader, I wanted to get to know Jane more deeply. She makes all kinds of stream of consciousness observations that are believable from an eleven-year-old girl, and she outlines her Talmudic learning in layer after layer. I loved that she could careen from the technical aspects of law to heartfelt questions—"What would the Torah tell us about mermaids, she wonders?"
It would not have fit with the style of the novel, but my preference would be to see Jane through her interactions with a wider range of people. Her father, so quick to allow her to stay home sick, and her neighbor, amused at Jane's theft of makeup from her bathroom, gave me an imperfect picture. Also, I did not so much like the style of switching between the voices of Jane and Mrs. Walkeson.
Overall, Jennifer Natalya Fink gives us a glimpse of coming of age and sorting out rules that honors an important rite of passage—the onset of menses. Through the heroine, Jane, the author brings up for reflection questions of women's im/purity that need to be addressed by people of all backgrounds. I loved listening to Jane rename herself, and insert herself in Talmudic stories, demonstrating the weight of each young girl's life.