Mineral Blush (Satin Collection)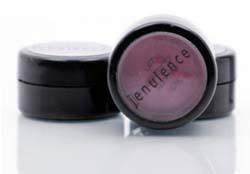 I have always loved makeup, so I was excited when I received this blush for review. I liked the small round container it came in: slick, black with a transparent lid , the name "Jenulence" emblazoned across the top. I think that it would be great for traveling or throwing in your purse. It has a screw on lid so there is no chance for spillage. The bottom label is in gold and contains the name, site address, ingredients, weight and the fact that it is made in the U.S. These are all crucial elements.
There were a few problems, though. When I first opened it, it was very light and powdery with a luminescent glow. It contained tiny little sparkles floating among the powder itself, but the color was too light, and it did not come with any kind of applicator. I have a large blush brush though, which I think many women own. I had a hard time getting that to fit in such a small container. When I did finally get it in the powder was so loose I took too much, and it ended up everywhere. It did not apply well and really did not cast much color onto my face. I had to re-apply, this time with my fingers.
The consistency and the color reminded me more of a pressed powder foundation than a blush. The color could be bolder and the consistency of the powder could be thicker. The container itself could be bigger and an applicator or brush should have been included. I think that this is an innovative product and it could take off, but it definitely needs some tweaking to really hit the market with a bang instead of a blush.