My Mom is My Hero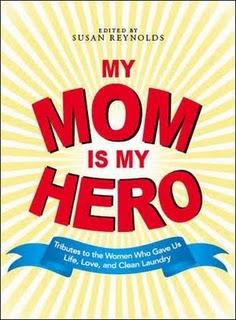 If you're searching for a warm, soothing bowl of soup for the soul, look no further. This collection of lovely essays on the importance of mothers is sure to strike a chord with every reader. Each of the fifty authors of My Mom is My Hero has contributed a very personal piece, describing key events, special memories, or extraordinary displays of love from Mom. Universal motherly themes emerge, such as nurturing, encouraging, giving, and forging life paths.
The contributors are diverse, including men and women of a variety of ages, representing a wide range of backgrounds and experiences. Each story is unique, enhancing the reader's understanding and appreciation of mothers. Some essays are uplifting, such as Kathryn Godsiff's "The Care Package Queen," which chronicles the author's mother's undying efforts to send goodies, no matter the distance. Others are inspirational, like "The Writing Desk," Charles W. Sasser's story of his family's lifestyle as cotton pickers and how his mother's sacrifices paved the way for him to become a writer. Still others are humorously bittersweet, including "There is No Such Thing as a Perfect Vacuum" by Chavawn Kelley, which will have readers smiling with nostalgia at the images of Sunbeam mixers and Electrolux vacuum cleaners.
What surprised me most about My Mom is My Hero was the variety of points of view and experiences it provides. I expected a collection of feel-good stories about the love of mothers, and I thought that was where it would end. But this book is so much more than that. Mothers are undoubtedly in the spotlight, but others receive standing ovations as well, including grandmothers, fathers, other relatives, and neighbors. In addition, we get candid looks at the life inside the writers' minds and families. Reading about how the writers and their mothers coped with tough situations and individuals is enough to get us on our feet, ready to take on the world. A great gift for Mom, or for yourself!