Nadirs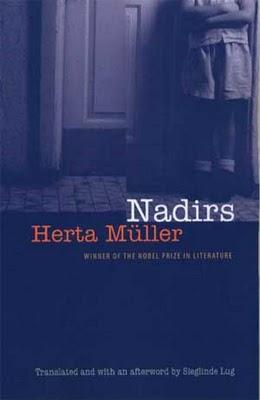 The first impression upon commencing Herta Müller's collection of semi-autobiographical short stories Nadirs is one that is characterized by a child's hybridized view of a world which is intensely real and also hauntingly and disconcertingly surreal. Nadirs illustrates Müller's perspectives in Banat, her native German-speaking region of Romania. Nadirs was first published in Berlin in 1988. Sieglinde Lug, professor of German at the University of Denver, provides the English translation.
Müller's transitions or segues between realism and surrealism are so seamless that it is not until you are deep into her stories that you realize some of the most interesting stories in Nadirs deal direct with the family and many times in fantastical language. For example, Mueller describes the preparations of family for the usual Saturday night movie in "The Swabian Bath," where each family takes a bath in the water of the person preceding them. Another story entitled "The Funeral Sermon" describes the central character attending her father's funeral where you learn the views of the father from certain members of the community and the child. Was the father a war hero or a rapist? The child is charged with the task of giving a eulogy in the midst of these tales being exchanged, and it is the fear described by Müller and confusion by the prospect of giving the eulogy in front of the townspeople that lends the story its memorable surrealism.
As the two aforementioned stories indicate, within each of Müller's tales, one progresses from an initial assumption of what to expect and is quickly deposited into unfamiliar territory containing the lucid, vivid and sometimes frightening descriptions of events that you don't imagine usually reading of, but are still very intrigued. Nadirs, in each of its segments and in its entirety, as one of the first of Müller's forays into the literary world remains a testament to her current Nobel Laureate status and also to the significant likelihood that her works will endure.