The Natural Wedding: Ideas and Inspiration for a Stylish and Green Celebration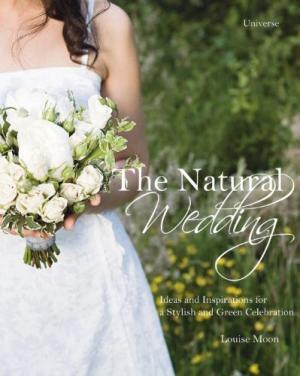 "... the average wedding can send 14.5 tons of carbon dioxide into the atmosphere—roughly double an individual human's carbon footprint for a year." So writes the author Louise Moon in the introduction to her book, The Natural Wedding. As the founder of EcoMoon, which specializes in designing green weddings, Moon is uniquely qualified to guide those who aspire to be responsible stewards of our planet.
The book covers just about everything that has to do with weddings—theme, venue, dress, rings and other jewelry, accessories, invitations, menu, cake, flowers, decorations, wedding favors, table assignments, make-up and hair, clean-up and honeymoon—and shows how to avoid products and practices that are bad for the environment. She advises the bridal couple to think "seasonal," "eco-chic," "vintage," and "DIY" (do-it-yourself). She also defines terms such as organic, biodynamic, free-range, fair trade, slow food and sustainable.
One of the author's suggestions is to plant your own garden specifically for the food and/or flowers you want to use in your wedding. (Obviously that takes a lot of advance planning.) Another is to use petals instead of rice or paper for confetti.
Moon gives so many suggestions that the bridal couple could be left feeling overwhelmed. How could you possibly implement all of these green solutions? The key is to pick those practices and products that appeal to you—and that you can afford. (The author's claim that a natural wedding is less expensive than a traditional one seemed a bit unrealistic given how costly some green products can be.)
Martha Stewart fans will love this book. It's full of DIY projects, from fabric corsages to bridesmaid totes and recipes. The photographs are beautiful and the illustrations are detailed. There's a wedding planner in the back of the book as well as a glossary, bibliography and list of helpful websites. The book is the size of a typical magazine, making it seem more like a coffee table book than a how-to-manual (it also has a coffee table price). That's not to say that it's not worth buying, just that it's so pretty I would hate to handle it too much for fear of spoiling its appearance.
The text is full of references that are British (such as well-known British eco-hotels or outdoor venues, laws governing getting married in Britain, and certain terms), and the author herself is British, but the book was published in the U.S. with no mention of a prior publication in Britain. However, its list of websites includes many American and Canadian venues, products, and companies, so it is still a valuable resource for North Americans.
In fact, anyone who wants their wedding to make a statement, but doesn't quite know how will find plenty of inspiration and handy information in this book. This would make a great present for someone who has just become engaged or is just starting to plan her wedding.