Neil Gaiman's American Gods: Bilquis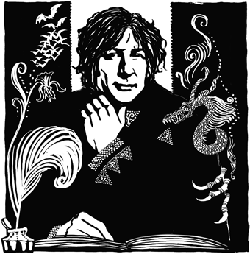 Black Phoenix Alchemy Lab has created a line of perfume oils inspired by the characters, places and ideas from Neil Gaiman's best selling novel American Gods. In addition to always being animal testing-free, 100% of the proceeds from the American Gods Collection go to the Comic Book Legal Defense Fund which protects the First Amendment Rights of the comic book community. I dabbed on the Bilquis scent that was inspired by the Queen of Sheba, the half demon, half goddess from the novel and waited.
A blend of honey, lily of the valley, myrrh, rose, fig leaf, almond, ambrette (an herb grown in the rainy season in India with a musky scent and used as an aphrodisiac), red apple and warm musk, Bilquis is neither too flowery nor too musky. I noticed the almond, musk and honey immediately and after a few minutes on the skin it turned softly floral and powdery. Just go easy with it. Like most oils, it can be so intense no one will be able to come near you and that would defeat the purpose. But if you are very careful, it's a soft, earthy and warm scent.
It would be perfect dripped in an unscented oil and used for a sensual massage. It would also make a great gift for your friend who is a Neil Gaiman fan, a comic book reader or your roommate, the closeted Tori Amos groupie. Or, of course, this scent is perfect for you: a classy babe with a mysterious side who likes to indulge in a beauty ritual where a spritz of Electric Youth just doesn't cut it.