Neon Angel: A Memoir of a Runaway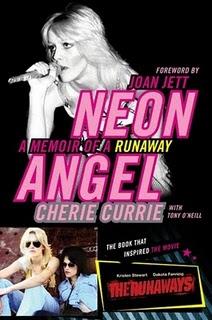 Neon Angel: A Memoir of a Runaway is kind of like Cherie Currie's re-working of her first autobiography originally published in the 1980s and entitled Neon Angel: The Cherie Currie Story. That particular telling was geared towards young adults and this new one is less about lessons learned and more about battle scars obtained while on the road and leading one of the most badass girl groups ever: The Runaways.
Currie, along with original bandmates Joan Jett, Sandy West, Lita Ford, and Jackie Fox, were brought together by infamous record producer Kim Fowley in the '70s. Fowley, who rather perversely scoped these teenage girls out in popular, all-ages Los Angeles nightclubs, would help turn them into one of the biggest rock sensations of their time—though fame came at a huge price.
Currie, who was just fifteen at the time of the band's beginning, seems rather disconnected to the sometimes horrendous scenes played out in the book. Each chapter is more of a retelling than a reflection. It's recounted like a long, sad chain of events: this happened and then I was raped; this happened and then I joined The Runaways; this happened and then I was abandoned by my mother when I needed her most; this happened and then I became severely addicted to drugs. You get the picture.
Speaking about the process of writing such painful memories Currie told me, "Sometimes I would look at these experiences like I was on the outside looking in, watching it all happen. But there was no escaping the fact that I had to be there in my body reliving it so I could share the true experience, no matter how painful it was."
Unlike Currie, I never led an internationally acclaimed rock band, but, like her, I grew up too fast and would sometimes have moments in which I realized things had gone too far and were quickly spiraling out of control. As a teen, it's sometimes hard to get a grip. This is especially true when you have a maniac managing your band and acting as your legal guardian.
Each Runaways member was abused by Fowley, who had their parents sign a contract waiving their parental rights while the girls were on tour. He promised strict adult supervision and tutors on the road, none of which ever panned out. He took great pleasure in verbally berating them. In one particularly hard to read passage, Currie describes basically being pimped out by Fowley to a famous male pop star at the time. Later while on tour, Fowley corners the girls in a hotel room and makes them watch as he has sex with a drugged, underage girl because he thinks it's important that they "learn how to fuck."
Fowley was quick to provide all of the underage girls with copious amounts of liquor, pills, speed, coke, or any other substance their young hearts desired. This, of course, would lead to Currie's enormous drug habit that would nearly take her life several times and have her knocking at death's door in her early 20's when she weighed less than a hundred pounds and experienced heart palpitations because of her excessive cocaine use.
This misuse of power was financial, as well. At the height of their popularity The Runaways were playing sold out stadiums and touring internationally, but Fowley would only occasionally buy the girls cheeseburgers or throw ten bucks their way. It wasn't until they sued Fowley in the '90s that any of them saw their royalties, though there's no telling how much they lost in ticket and record sales.
Currie also had struggles outside of the band to contend with. She was sexually assaulted as a young girl by her twin sister's boyfriend. Her mother didn't speak to her for two years and moved to Indonesia just as Currie signed on as part of the band. She watched her father struggle with, and eventually die of, alcoholism. She survived a terrible ordeal in which a deranged fan kidnapped and brutalized her for six agonizing hours. Incredibly, at twenty-four years old, Currie soberly walked off into the sunset ready to regain her life after the hell-bound hayride that was The Runaways. Despite the difficulties, Currie still maintains fond memories of her time with her bandmates, "We grew up in the battlefields together. I will always love each member of the band."
Though Currie is currently fifty-one, it's hard not to think of her as the long, lithe, fifteen-year-old Cherry Bomb stomping around on stage in a white corset and platform boots. It will only be more difficult to disassociate her from this image once people see The Runaways movie that opened this month. Currie is currently on a publicity tour for the film and Neon Angel. Reflecting on her life she says, "Anytime you have to go back and relive negative experiences, well, it's not fun. I spent many weeks, even months locked in that place of fear and anger. From where I sit now, I'm so glad we have such a compelling story to tell. It's a story of survival, tenacity, and the will of the human spirit, that you can survive anything."