Newcomer's Handbook for Moving to and Living in the San Francisco Bay Area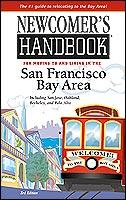 The Newcomer's Handbook for Moving to and Living in the San Francisco Bay Area covers just about every aspect of living in and around San Francisco. I mean everything! Including "Moving and Storage," "Getting Settled," "Children and Education," "Sports and Recreation," "Transportation" and everything in between, this thick book answers almost any question about San Francisco.
The introduction to the book is just as cool: "San Francisco is the land of the 49er Gold Rush, the Great 1906 earthquake, and the missionary expeditions of the Spanish; it is the birthplace of Levi's jeans and home of the railroad tycoon Leland Stanford; it is host to one of the greatest feats of engineering, the Golden Gate Bridge, and as a cultural epicenter, it fueled the hippie flower-power revolution, gave rise to Rolling Stone magazine, and played host to beat generation poets." Geez, now I want to move to San Francisco!
This guide to "America's melting pot" provides information about the local lingo, so you will not feel too much like an out-of-towner. For example, "The Haight" is the famous Haight-Ashbury neighborhood, "The City," always capitalized, "is the way natives and local newspapers refer to San Francisco" and BART (Bay Area Rapid Transit) is "the under-and-above ground subway-style train network that connects the East Bay and peninsula with San Francisco."
This guide also provides detailed information concerning the many municipalities of San Francisco, including web sites, area codes, zip codes, post offices, police stations, emergency hospitals, libraries, public schools, community resources and public transportation. The "Cultural Life" section is also pretty cool, providing tons of information about film festivals, music, theater, ballet and dance, restaurants, nightclubs, comedy, art, museums and anything else you can think of. San Francisco is one cool town, and this book is undoubtedly the perfect guide to moving there!