The Night Bookmobile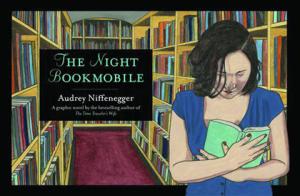 I am new to the world of graphic novels and so is The Night Bookmobile's author Audrey Niffenegger, bestselling author of The Time Traveler's Wife. According to the author, the book was inspired by a short H.G. Wells story and a dream she had as a teenager. In just thirty-three pages, Niffenegger manages to intrigue and captivate with the story of Alexandra, a young woman who gets into a fight with her live-in boyfriend and begins wandering the neighborhood in the dead of night hoping to blow off some steam. That's when she comes across The Night Bookmobile, a mobile library run by Mr. Openshaw.
Once inside, Alexandra soon discovers that the library is filled with everything she's ever read, from old takeout menus and her childhood diary to her family Bible and various Jane Austen titles. When daylight breaks Mr. Openshaw rushes Alexandra off, not allowing her to check out any of the books. For weeks after this bizarre encounter, Alexandra wanders the streets in the middle of the night searching for the mysterious Mr. Openshaw and his roving library. Her boyfriend, convinced she's having an affair, eventually leaves Alexandra and so she lives alone, spending a majority of her time reading.
Nine years later in front of Wrigley Field, Alexandra has another chance encounter with the bookmobile. Once inside she takes note of all the new titles that have been added and asks Mr. Openshaw if she can be his assistant, but he refuses and recommends that she become a "regular librarian"—and so she does.
Twelve years elapse before she sees Mr. Openshaw again and during that time she's become a librarian leading a rather solitary life. The story ends in a rather surprising way just a few pages later, which left me feeling a bit shocked and sad that Alexandra's story was over so soon. Thankfully, this is just the first installment of a much larger work called The Library that will be released in segments.
From its very first pages, The Night Bookmobile has a sort of lovely sadness that lingers over each frame and you find yourself—right along with Alexandra—loving the idea of the bookmobile for unidentifiable reasons and wondering what it all means. With The Night Bookmobile's quiet intensity, Niffenegger has made me a graphic novel believer.