Fabriclive.40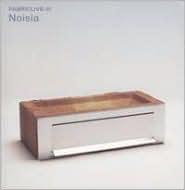 Sound aficionados who venture forth on the Fabric path will discover music that is progressive, exciting, and out of this world. If you're not a fan of drum n bass, break beats, and electronic music, you have to make the commitment to listen, but if you love sound and the evolution of human creative expression, that commitment is not hard to make.
Noisia is the Dutch trio of Nik Roos, Martijn Van Sonderen, and Thijs de Vlieger. They have been involved in the drum n bass music scene since 1998, and own two record labels: Vision and Division. They have performed across the world, working with major artists like Robbie Williams and Moby.
Fabriclive.40 is a mixed CD, which includes many of Noisia's own tracks. As long as you enjoy robotic beings from the twenty-fifth century's outer space blasting back to our timeframe to teach us new and different things, Fabriclive.40 is incredible!
The first song sets the listener up for the experience. It is the only song with words, and those words are: "Ladies and Gentleman, can I please have your attention. I've just been handed an urgent and horrifying news story. I mean all of you stop what you're doing and listen." How can you not pay attention after that?
The music, at times, is harsh, disjointed, and dark. The drumbeat is relentless. Fabriclive.40 is shadowy future trek where you have to leave your mind at home to listen.
Some folks might think this music is just noise. However, if you make that commitment to listen, you'll discover the melodies in this album that are like having veins of solid gold.