Guide to Brooklyn: 2007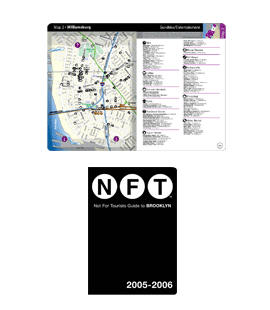 Has the ganglial network that is today's Internet annulled the need for books, especially guidebooks? Printed matter tickles my aesthetic funny bone when it contains unique, antiquey fonts or luscious photographs, but when was the last time an urbanite rifled through the Yellow Pages to choose the perfect dark hideaway to romance her lover in, the price-is-right shop for a colorful spring dress or the school to send her children to?
The Not For Tourists (NFT) Guide to Brooklyn is an expanded Yellow Pages geared toward the hip, youngish city dweller. Attractions are grouped by neighborhood, with accompanying maps. My main complaint with the book is that the reader has to flip to the back of the book for descriptions of businesses, as if referencing footnotes. Although I'm sure the editors thought this would ensure the brevity of the neighborhood sections, it's a pesky task to have to look to the back of the book for the category of Park Slope, then the subcategory Shopping, just to find a one-liner on a store I was looking for - Bird.
The one-liners zing and miss in equal doses. This may be because NFT employs a dozen or so writers to scope out and review these spots, so the feel is a bit inconsistent. The Williamsburg bar Larry Lawrence is merely described as "Smokers." What kind of smokers? What kind of décor? Most importantly, what kind of drinks and atmosphere? Also, the word "hip" (which begs the pertinent question: hip in what way? Is it gutter punk divey, mod fashionista or stylish Williamsburg momma with papoose sling sort of hip?) is used to describe many businesses, including Supreme Trading, a bar that as of recently, especially on weekends, is more filled with Bridge and Tunnelers from other boroughs than local "hipsters" of any kind.
My second complaint about the organization of the book (this is starting to sound like a list of union grievances) is that after flipping back and finally finding the Park Slope/Prospect Heights section again, I couldn't determine the cross streets of the soul food restaurant I was looking for on the map because the various businesses were not numbered! They were just denoted as stores, restaurants or bars. This was more than I could handle from a supposed resident guidebook. My friend and I ended up taking a recommendation from the bartender instead.
One caveat: Brooklyn is, and always has been, its own ethnic, mini-United States (more so than uber-gentrified Manhattan), and it isn't as encapsulated as Manhattan, so it's not as easy to describe. Some parts of Brooklyn are so far removed from Manhattan that they're hardly recognizable as being part of New York City. Other parts, like Williamsburg or Park Slope, resemble the Lower East Side or West Village. In either case, it's a much larger area dominated by small businesses and dozens of different immigrant communities with events and services that can be quite private or off the radar, so it may be more impenetrable.
This book would be so much more exciting if there were lengthier descriptions of neighborhood histories, what kind of signs identify a Turkish bath, how and where to bargain, contact info for active community groups, or what kind of Chinese vegetables to look for in Sunset Park, rather than just listings of businesses that may soon close (NFT itself puts a disclaimer in the front of the book, saying that it can't guarantee that these businesses will still be open and takes no responsibility if they aren't). The guide also covered only the Western and Southern Brooklyn neighborhoods, which was a disappointment. These are mostly the neighborhoods that residents already know. I was looking for some new information.
I think this is a better choice for someone who has just arrived in Brooklyn, or someone who doesn't have access to the Internet (the whole guide is, after all, published in PDF on their website), but at $9.95, it won't eat holes into your credit card, and even if you don't consult it frequently, you might learn a thing or two. Editor Rob Tallia has the fervent love that a New Yorker needs to survive here for decades (see his article "City Life" on the NFT website), and through his good intentions, I'm sure that future versions will improve (last year's Brooklyn book was even skimpier), though never with the speed of Citysearch via a Sidekick, nor with the relevancy that a good local bartender could provide.