One Love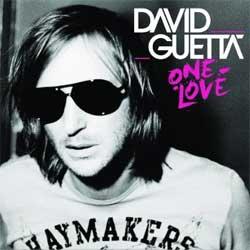 French DJ and producer David Guetta's One Love is a dream come true for dance and electronica fans who like hip-hop too. With the smash hits "When Love Takes Over," featuring Kelly Rowland on vocals, and the auto-tune-saturated "Sexy Bitch," with Akon, Guetta has placed himself at the forefront of what seems to be a new movement of hip-hop artists showing up on dance records.
Guetta went beyond his strong club fan base and reached a wider audience in 2007 with the hit "Love is Gone," which got the attention of other artists His collaboration with the Black Eyed Peas on "I Gotta Feeling" resulted in his first number one single in the U.S. The boring FMIF remix is on One Love, along with two other appearances from Will.I.Am: "On the Dancefloor" (also with apl.de.ap of the Black Eyed Peas), is perfect for club heads with its pulsating beat, but the chaotic and annoying "I Wanna Go Crazy" goes nowhere. The same can be said for the Ne-Yo and Kelly Rowland song "Choose."
In an interview with a British magazine a few months ago, Guetta said he kept hearing from so many artists who felt "trapped in a formula" and were "looking for the music of tomorrow." He called the sound they began to develop, this mixture of dance and hip-hop, "electro-hop." Cause for concern if you're a hip-hop fan worried about the direction our beloved art form—already in trouble—is taking.
Guetta's work with Kid Cupri on "Memories" is actually worth hearing, although the real standouts are the title song with Estelle's smooth vocals, and the still hard to resist "When Love Takes Over." (Is it the backing piano lifted straight from Coldplay's "Clocks?" Could it be the pleasantly predictable buildup?)
In that same interview, Guetta says that dance music in America has for many years remained a "black, gay underground thing," but that's changing now with artists like Kanye West and Timbaland borrowing from house music—an interesting statement since it can be argued that house music was birthed from hip-hop. As one of those concerned hip-hop fans I mentioned earlier, a little "borrowing" doesn't worry me, but overkill does. Guetta's mission to resurrect dance music and rule American pop is clear. The future of hip-hop, if too many of its artists ride the "electro-hop" wave, is not.