The Peace Tree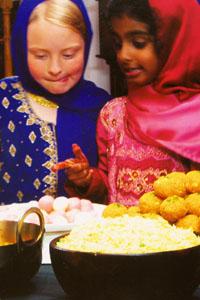 The Peace Tree is a heartwarming, informative movie by producer and director Mitra Sen. There are funny, touching and beautiful moments throughout this compelling movie.
At school, all different religious holidays are discussed and celebrated. I learned about Eid, the Muslim celebration that marks the end of Ramadan. But what happens at home is another story. Old prejudices are difficult to transcend, and parents are reluctant to allow their children to participate in the traditions of other faiths. The persistence and sweetness of two Muslim sisters and their Christian best friend finally win over the cautious parents.
The end of the movie is happy, with the children being honored by the mayor of their town. Despite moments of conflict, nothing bad happens beyond the exchange of a few sharp words. The Peace Tree would be appropriate for the entire family and probably most appreciated by 6 – 10 year olds.
This movie has created a movement: the international celebration of Peace Tree Day. It serves as an introduction to Peace Tree Day and could be useful for any group just beginning to celebrate the holiday.
At times, the dialogue does not ring true, but this movie's heart is always in the right place. With lively colors, gorgeous clothing, and joyful music, The Peace Tree has a great deal of charm and appeal. It can bring diversity and cultural information to your home during the holidays or any time and encourage respect and unity among all people.