On The Ground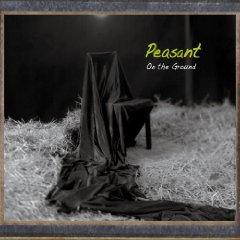 Damien DeRose, the musician and songwriter behind the Peasant name, could be any hybrid of melancholy and charming—The Shins meets the late Elliott Smith—a consumable sadness that Wes Anderson will no doubt eventually co-opt for a postmodern movie soundtrack. While I know this observation may not be a unique one, Peasant has already reached high-minded and popular audiences on National Public Radio's Second Stage and TV shows like The United States of Tara and Bones. I wouldn't be surprised if DeRose ends up on tour opening for Iron and Wine, or Bon Iver. Folk hipsters love a working class acoustic guitar strummer. Beards are the new black unless you're so cool, you've already moved on.
The first time I listened to this album, I was sobbing by track three. More related to my own circumstances than the melancholy sounds of On The Ground, it is nevertheless certifiable sad bastard indie folk rock. You can decide whether or not this is an endorsement.
Despite my cheerless reaction, the second album from Peasant combines soulful crooning with melodic bursts that I suspect are meant to inspire and hearten sad folk like me, with the songs offering a nod of somber solidarity. On "Exposure," DeRose explains that he's hiding from that exact thing, which makes me think how much I agree as I look for some cozy blankets under which to hide. "Fine Is Fine" finds our peasant wishing for simpler existence—"Can't we just be friends?"—instead of the monotony of discussing life's administrative details. "Those Days," refers to how "hazy" life can be. Is confusion really supposed to be so elegant? At least someone can make it sound that way.
Out on Paper Garden Records, a tiny Nashville label committed to environmental consciousness, the most earth-friendly purchase of this album would be in digital form.