Perfect Chemistry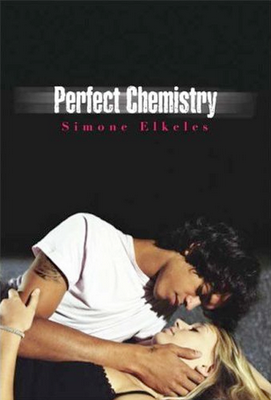 I can pinpoint exactly where I fell for the charms of Simone Elkeles' Perfect Chemistry due to the disappearance of my "reflective" notes in the margins: Chapter eleven. Page sixty-seven. The initial sixty-seven pages were rather laborious, as my first reaction was that it was going to be another predictable American teen novel and—to an extent—it was. Boy meets girl at school. They both proclaim their hatred for one another. Boy makes a bet to woo said girl. They both fall in love. Remind you of 10 Things I Hate About You, anyone?
It does, however, prove to be a perfect formula for a story line Take one test tube, add a dose of Stephenie Meyer's Twilight to a teaspoon of Romeo and Juliet, and you have an explosive plot.
The story deals with the cultural differences between high school teen Brittany Ellis, the perfect blonde cheerleader, and her chemistry classmate Alex Fuentes, a Mexican gang leader from the other side of town. Despite initial appearances, they both realize their appearances are merely façades, and aim to break the stereotyping molds they've been forced into. They then realize that, despite their initial reservations, they have more in common than they thought.
At times the plot delves into the ridiculous, and the dialogue and events can seem a bit tacky, but yet I still loved it and literally devoured the book in hours. Touching on themes of disabilities, racism and teenage insecurities, Elkeles' narrative has more depth to it than at first glance. However, with crude language and gang violence, it's a story for older teens (so it's not quite in the slushy league of Twilight...) that adults can dip into without feeling guilty.
Perfect Chemistry displays a modern kind of feminism, whereby the main female protagonist enters a journey of realization and transition, as highlighted by the steady and gradual control she takes over her own life—concerning both her relationships with friends and the way in which she respects her own body.