Perfect Harmony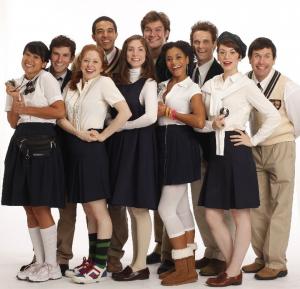 At the start of Perfect Harmony, a narrator tells the audience that the Acafellas, an all-male acapella singing group, have won the last eighteen high school singing competitions. What's more, we're told that they were the inspiration for "that show."
Like Glee, Perfect Harmony celebrates dorkiness, this time in an elite private high school. Five male songsters—two of them grandsons of the Acafellas' founders—are itching for their nineteenth win. The obstacle? A girl group, once called The Ladies in Red and now dubbed Lady Treble.
On the surface, the boys pooh-pooh Lady Treble's all-out effort to triumph. "Girl groups sound tinny," says Lassiter A. Jayson III [Robbie Collier Sublett], the Acafellas' ostensible leader, to his mates. "Boys have a biologically fuller sound," Simon [David Barlow] agrees.
Not surprisingly, these fighting words cement the girls' resolve to stop the boys in their tracks. But how best to do this? Leader Melody [Dana Acheson], is a squeaky clean "good girl" who wants to emphasize the wholesome—her favorite song is "My Life Goes On in an Endless Song/How Can I Keep from Singing"—while Meghan [Kelly McCreary] wants to sex things up. New costumes, a more contemporary play list, and some risqué dance moves will ensure a win, she argues. After all, she adds, no one wants to see girls dressed "as old-fashioned mummies."
The three remaining group members—played with abundant humor by Faryl Amadeus, Marie-France Arcilla, and Kate Morgan Chadwick—have heretofore been more comfortable taking orders than making decisions. They're torn. Should they listen to Melody, or should they follow Meghan's lead and develop a routine that that is bolder, sassier, and less predictable?
Yes, both male and female characters are stock roles, the "types" found in every high school, everywhere. This is not a deterrent; in fact, this recognition is what makes the play so much fun. Indeed, while the story addresses something serious—the notion that winning trumps all—it uses fifteen song and dance numbers, all of them performed faultlessly, to touch on the importance of friendship, loyalty, group-cohesion, and the ways we undermine both others and ourselves.
In addition, the injection of Botox into the vocal chords of male tenors, making them like "big, husky soprano angels," is subtlety derided. Likewise homophobia. When JB [Jarid Faubel], the groups' most athletic and macho member, tells the others that he kissed a boy in summer camp, it opens the door to the homoeroticism that lurks in the group's DNA. Later, it's part of the impetus that allows Philip Fellows V [Kobi Libii] to come out. Philip's father, Philip Fellows IV, was initially incensed, we're told, but he's gotten used to the idea and now fully supports his son. The Acafellas are similarly accepting.
It's sweet.
Perfect Harmony is light fare, charming, witty, and entertaining. Collaboratively written by playwright Grosso and a group of actors who call themselves The Essentials, the 105-minute one-act was first mounted at the 2006 Fringe Festival and had an extensive New York City run in 2008. It's now off Broadway, with a ten-member cast that rocks the house and is laugh-out-loud funny.
That said, Perfect Harmony probably won't make you nostalgic for the trials and tribulations of high school, but it might just have you belting out a 1980s pop song as you boogie down 42nd Street after the final curtain.
Perfect Harmony is at the Acorn Theatre, 410 West 42nd Street, through November 13. Tickets cost $49.50 and are available through Telecharge, 212.239.6200.