The Pet-Moving Handbook: Maximize Your Pet's Well-Being And Maintain Your Sanity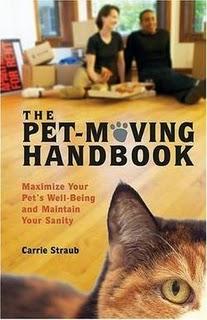 In today's bookstore, finding a barebones look at anything can be a rarity. But if you're considering relocating sometime in the next year and plan on taking anything from a fish to a flock of cats, it would be wise to consider investing in The Pet-Moving Handbook. At fewer than sixty pages, the guide is straightforward and frill-free in a field so often overrun with all things precious. The book offers basic, but commonly overlooked advice, covering topics from pre-move nutrition, budget considerations and finding a new veterinarian, among many other basic areas.
However, if you are easily upset by tales of animals lost or worse, it might be wise to skip over the vignettes sharing personal experiences of those who have experienced a move with a pet. Since a basic "We packed, we moved, the dog and ferret were fine" is not exactly titillating or educating, the real life tidbits offered here tend to stay on the darker side of things. In other words, I came away depressed and pretty much convinced that my Basset hounds are never leaving the house, much less the country.
The Pet-Moving Handbook, on the whole, is an essential guide for anyone wanting to find a new home with a furry companion, whether moving across the ocean or across the street. Practically any question you may have about relocation and animals is answered. I know, this seems unbelievable considering the size of the text, but somehow Straub manages to pack the book full of useful facts. Priced at under $10, the handbook really is a must-have investment for a pet owner. But trust me on the vignettes—those are only for the brave, the heartless, or the apathetic.