Picking Bones from Ash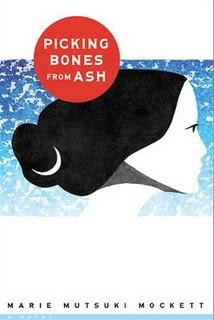 Marie Mutsuki Mockett's debut novel, Picking Bones from Ash, drew me in from the first sentence. Satomi, one of the two main characters of the book, learns from her mother at a young age that in order to be safe in this world, a woman must be talented—not well educated and certainly not beautiful, a woman must be talented. Satomi spends the rest of her life following this example, first as a pianist both in Japan and Europe and then as a successful cartoonist.
The story begins in Japan in the 1950s when Satomi is a little girl. Because Satomi has never met her father, and her mother runs an izakaya (pub) to support them, the two are outcasts in their small town, facing scorn from most of the women. Satomi's mother eventually marries, largely for their financial security, to ensure Satomi will become a famous pianist. As Satomi goes to Tokyo, and later Paris, to study, she becomes increasingly independent and alienated from her mother.
The story abruptly switches narratives at a key moment in the plot, and suddenly the reader is introduced to a new protagonist—Rumi, Satomi's daughter, who is living in San Francisco in the '80s with her English father. Satomi, as far as Rumi knows, is dead. Under the tutelage of her father Francois, Rumi has become a gifted authenticator of Asian antiques. When she begins seeing a ghost, she's convinced it is the spirit of her mother. Her quest to discover what happened to her mother leads her back to Japan, where the story takes some interesting, though not unexpected, twists.
Mockett seamlessly takes her story and characters through Japan, Europe, and San Francisco. Both Satomi and Rumi are compelling characters, although Satomi feels much more complex. Satomi's selfish actions turn her into a somewhat frustrating protagonist, but this also makes her more realistic, and when Rumi narrates in part two, I often longed for Mockett to hurry up and return to Satomi's story. Ultimately, Picking Bones from Ash is a story of mothers and daughters—the inexplicable bonds between them, and how the presence or absence of a mother can shape the daughter. Through each daughter, Mockett tackles a difficult reality. With the American daughter, Rumi, she addresses the struggles of growing up motherless and relating to her Japanese relatives. With the Japanese daughter Satomi, Mockett dares to address the unspeakable question: What happens when a daughter leaves her mother—or when a mother leaves her daughter?
If you've read Amy Tan's The Bonesetter's Daughter, it's easy to compare the two novels. Both feature complex and often painful relationships between mothers and daughters, cultural and language differences among immigrant families (for Tan, China; for Mockett, Japan), and the "ghosts" of ancestors. (In fact, Amy Tan has praised this novel, calling it "a book of intelligence and heart.")
Although I couldn't completely shake the comparison as I read Picking Bones from Ash, it would be unfair to Mockett to leave it at that. She's created a unique tale with two unique women who are talented and strong in unique ways. Picking Bones from Ash challenges typical ideas of how mothers and daughters relate without ignoring one simple fact that every woman knows: our mothers are always with us.
Cross-posted with Gender Across Borders