Thirteen Tales of Love and Revenge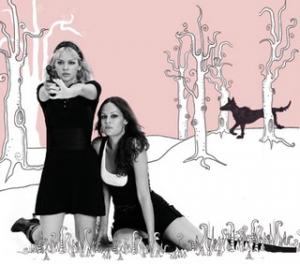 When I started to listen to Thirteen Tales of Love and Revenge, I thought "Oh, folk rock, how… er… nice." Not that I have anything against folk rock, but… Then the beat kicked in. Forty minutes later, I was still dancing in my seat. This music rocks! The lyrics are good poetry about love, sex and strong women. There are some out of the ordinary instruments used on this album, such as a glockenspiel. I like different; it makes my senses perk up. For me, music works if it sweeps me away on a river current of feeling. This album does that. The social statement isn't such a strong one, not so much the words anyway, but in there is so much raw emotion in their voices and music.
I had one problem with this album, the title. I expected a dark side. If someone wants revenge, she is in pain. The fact that the music was consistently beautiful bothered me. I think the feelings expressed are real; the words are honest; and passionate love is oh-so expressed (and not X-rated, good for them!), but there is no real anger expressed. The pain isn't there. Maybe I need to listen to the album a few more times. I know the sounds and the beats linger in my mind, which is a sign the album had its way with me.
I hope the Pierces survive. They are brilliant musicians. I'd like to see them grow, and I'd like to see what else they create down the line.