The Scholar and Feminist Online, Issue 8.3 (Polyphonic Feminisms: Acting in Concert)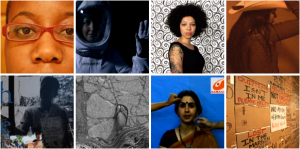 In hindsight, I probably should have waited to read all of the articles in this issue of Barnard Center for Research on Women's The Scholar and Feminist Online journal, "Polyphonic Feminisms: Acting in Concert," before emailing out sections that resonated with me and the work I'm interested in doing. Instead, I enthusiastically exploded the email inboxes of family, co-workers, friends, and even professors with links, starting with the thorough but concise introduction by guest editors Julie Kubala and (Elevate Difference founding editor) Mandy Van Deven, followed by lists of extensive blog and print resources, key thought-provoking and productive articles, strategic quotes, inspiring photography, and other creative projects.
On a visual level, I was first attracted to the gorgeous photographs, intriguing title (what does the musical term polyphony have to do with feminism?), and black/red/white aesthetic that is simultaneously academic, professional, creative, and approachable. There are also a variety of writing styles (poetry, conversational prose, mixed media, and theory) and a diversity of contributors (artists, healers, authors, activists, survivors, educators, students, and performers).
Regarding the theoretical content, what resonated with my own passions and work was the exploration of how the once radical idea of intersectionality has become institutionalized and conceptualized as "a remedy for exclusivity and hegemony." Jennifer Nash ("On Difficultly: Intersectionality as Feminist Labor") argues (echoing the thoughts of other contributors) that, "While naming difference certainly allows feminists to bear witness to power's operations, it does little to analyze the mechanisms by which these systems of exclusion are replicated and re-created." Instead, she calls for intersectionality to be understood as "a metaphor, as one illustration of how structures of domination might cooperate to maintain their power." A lot of what the journal addresses is about is "how to encourage dissent within communities" in order to continue challenging the forms of resistance; who is speaking, visible and accessing the circulation of radical ideas; and focusing on the possibilities and "what next?"
As the editors explain, "Polyphony, with its focus on non-hierarchical multiplicity, [is] a way to address" these issues, and I would recommend this online journal to anyone interested in joining, or at least reading about, the continual conversations about theory, activism, and the plurality of feminisms.