Praise Song for the Day: A Poem for Barack Obama's Presidential Inauguration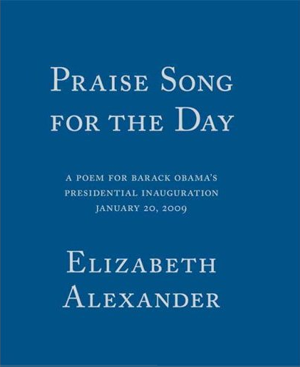 Elizabeth Alexander's Praise Song for the Day: A Poem for Barack Obama's Presidential Inauguration captures the essence of hope. Alexander unites all readers through illustrations of day-to-day activities. She begins "Each day we go about our business/Walking past each other, catching each other's/Eyes or not, about to speak or speaking." This opening stanza illuminates the monotony of daily activities by breathing new life into them. She gives hope life, which President Obama is all about.
Alexander continues her poetic ability by portraying the essence of American hard work: "Someone is stitching up a hem, darning/A hole in a uniform, patching a tire/Repairing the things in need of repair." She manages to connect all of us through her words and even reiterates this point in her poem when she writes, "We encounter each other in words, words/Spiny or smooth, whispered or declaimed/Words to consider, reconsider." 
Her diction invokes rich rhythm and strengthens the impact of each phrase. This is most clear in phrases like "in today's sharp sparkle," "brick by brick the glittering edifices," and "a farmer considers the changing sky." 
The poem is elegantly printed on rich cream paper and features a textured dark blue cover. Gray Wolf was a little too generous with the spacing extending this fifteen-stanza, forty-three-line poem over ten pages. Despite this, the book as a whole captures the hope of January 20, 2009, in printed form—a form that can be passed on for generations.