Premium Chocolate Chip Cookies & Brownie Babies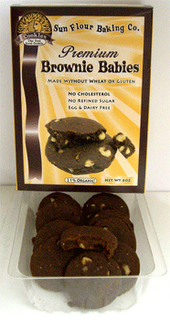 Like pizza or sex, chocolate chip cookies are good no matter how bad they are. Considering these cookies are devoid of most everything that makes cookies so delicious, they're not too bad at all. These are wheat, gluten, cholesterol and dairy free, as well as twenty-one percent organic. All of this translates into a snack that is both healthy and vegan. This box contains ten soft little cookies. Each one is about 1.5 times as wide as a Famous Amos cookie and twice as thick. There is a definite chocolate chip taste, but they're a little lacking on flavor when compared to the "real" thing.
Another shortcoming is the consistency. Though they're soft and chewy, the cookies also taste a bit chalky. If you can't eat wheat or gluten for dietary reasons or if you live a 100% cruelty free life, these could be a sweet blessing.
Sun Flour Baking Co. has also put together a clever recipe for soft, vegan brownies that are wheat, gluten, cholesterol and dairy-free. Unfortunately, they are also flavor-free. Like the chocolate chip cookies, these come ten to a box. They are soft and chewy and about the size of four or five poker chips stacked one on top of another. They might make a fine supplement if your diet or conscience keeps you from the "real" thing, but biting into one after eating a traditional brownie is like drinking orange juice after brushing your teeth. It's not that they're gross, but rather bland. They just don't have that rich brownie flavor, and if you're not allergic or vegan, I wouldn't recommend these as a snack.
Though they're soft baked, these cookies are a bit crumbly upon the first bite. They also left me and two friends quite parched afterward. I do think it's worth mentioning though that this company is making a difference by using soy inks and packaging their products in boxes made of recycled material.