Privacy, Please!: Gaining Independence From Your Parents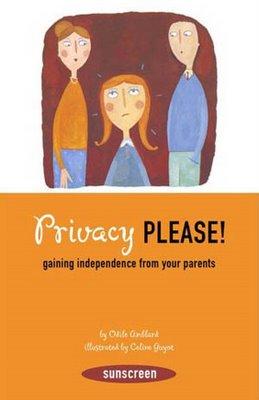 Privacy, Please! is a very entertaining and informative book written for teens, but I think parents will find Odile Amblard's advice just as useful. This 112-page book is written in the second person, which makes it feel very personal. The lighthearted style makes the sometimes serious subjects—such as alcohol and drugs—less daunting. From high school to college, Amblard covers education, curfews, money, friends, and, of course, freedom.
The illustrations done by Celine Guyot are full of color, and while done in the style of a picture book for children much younger than the emerging young adults this book aims to reach, I find they fit well with the author's own style and enhance the book.
As my time as a teenager comes to an end, I find I'm a late bloomer as my relationship with my parents is only now becoming tumultuous. Privacy, Please! seems to have come to me at just the right time, and I've started to look at my folks in a different light. As I turn eighteen, I can say I've read a good number of teen self-help books, and while they have all given me some good insight I have used wisely, or intend to use in the future, none have actually made me laugh (which is a difficult feat). None of them have made me feel as if I'm the one being hard on my parents and not the other way around.
While this book has been marketed as a teen self-help book, I see it has potential to be a parents' self-help book as well. Parents can see their relationship with their child from the teen's eyes, as they are basically faced with their teenage selves once again—but this time, from the frightening place called parenthood. I think while everything in this book has value, the real meaning needs to be found by the reader because every teen and every family is different. In my case, I found Amblard stressed balance in relationships. She constantly impresses the importance of communication, for teens and parents to keep some form of open dialogue while also knowing when to give the space needed to grow.