Pumpkin & Spice Candle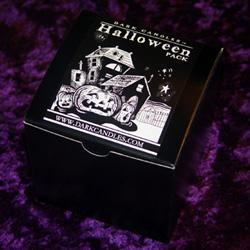 I love Halloween. Every year, I throw a big party in honor of All Hallow's Eve, where I go all out with decorations and spooky-themed food. At least half of the food I serve incorporates pumpkins in some manner; their smell and taste are just so comforting to me. So that's why I was excited to test my Pumpkin & Spice Candle, from the Halloween Collection by Dark Candles.
As soon as I opened the wrapper, that wonderful pumpkin pie scent greeted me, gently filling the room after I lit it. The warm, spiced aroma is lovely, and makes me long for fall, even though it's summertime. I can't think of a quicker way to get into the holiday spirit than to light one of these; it would create the perfect atmosphere for carving pumpkins and watching old horror films. This would be perfect for my next Halloween party, although it smells so nice that I will probably have burned all of it before then. But at $1.89 each, these handmade candles are very reasonably priced, so maybe I'll pick up a few to put in Trick-or-Treat bags!