Quilted Gadget Bag & Small Pouch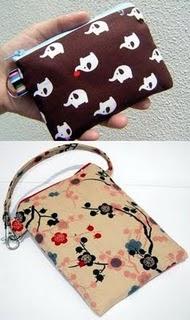 For no apparent reason, I fell in love with elephants when I was a little girl and started an ad hoc collection. By the time I was an adult I had gathered a small army of elephant kitsch that included everything from crystal statues to jewelry to candles to clocks. My penchant for all things pachyderm made gift-giving occasions an effortless affair for all of my family and friends, but while they were appreciative of the low maintenance mental exertion, their lack of creativity had me a little bit miffed. And when I sold all but my most precious belongings before moving to India—the country with the largest elephant population, by the way—my collection didn't make the cut.
The loss didn't strike me as particularly bothersome until I visited an elephant breeding center in Chitwan, Nepal, where I saw a particularly uncommon occurrence: captive elephant twins! My fondness for the largest living land mammal returned while attempting to pet the ever-mobile baby giants in a manner that was matador-esque. Already strong enough to knock a grown man out of their way (a feat I witnessed several times by a handful of foolish men who wanted them to stop and pose for a picture), as the two month old twins trotted from one end of the enclosure to the other, I would swoop in for a pat as they passed. Once the darling duo renewed my amorous inclinations for their species, Tina Hsieh's Small Pouch was the perfect way to be re-introduced cute creature consumption.
A stay-at-home mother, Tina's creative interest came from her father, a costume tailor. She honed her skills at a fashion design school in Taipei before settling into her current location: Singapore. When she's not looking after her thirteen-year-old daughter, Tina runs her bagonebagshop through Etsy.
Tina's bags are impeccably constructed with sturdy material and reliable stitching. While the Small Pouch (3.5 x 5 inches) works for pocket-sized items—money, a U.S. driver's license, or a compact cell phone—the Quilted Gadget Bag (6 x 4.5 inches) comes in handy for those who prefer to carry goods of a larger variety, such as a Blackberry, iPod, or passport. The Small Pouch comes with a d-ring attachment that can be used with a spring hook to snap it to your belt loop, and the Gadget Bag has a multi-use strap that facilitates several wearable configurations. Both are of excellent quality and affordably priced, even when you add international shipping.
Not into elephants? No problem. Tina's wristlet and clutch designs run the gammut from mod to modern and back again with fabrics that feature everything from flowers and flying birds to fluffy clouds and phrases. And if that's still not enough variety, she'll even customize orders to suit your style. That's what I call thoughtful gifting.