From Rage to Courage: Answers to Readers' Letters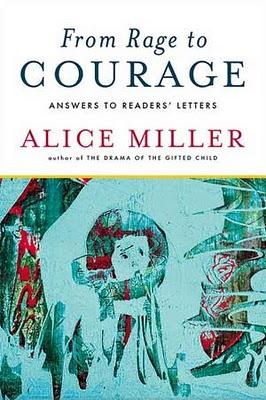 Alice Miller alleges that "most people (ninety-five percent of the world population) were beaten as children." You might think these are some pretty hefty charges: so did I. This book, in my opinion, does not seem to have any purpose besides encouraging readers to read Miller's other works, and also for blaming bad parenting as the root of every societal illness.
Perhaps I would have better appreciated From Rage to Courage had I been familiar with Miller's research, or if the book provided any empirical data supporting her claims. Instead, I was inundated by Miller's recommendation that readers acknowledge the childhood abuse they suffered, even if they didn't remember it happening. This book encourages everyone to delve into their psyche to try and find some hints of abuse.
I am skeptical of Miller's proposition that ninety-five percent of the world's adults suffered childhood abuse, but what really struck me as odd in this book is the claim that victims must embrace rage and shun forgiveness to cure themselves. I believe that anger can be a very liberating emotion, and I agree with Miller that victims of abuse should acknowledge the perpetrator's role in hurting them. However, I do not think a lack of forgiveness and a permanent angry state is even remotely healthy. My experience with anger leads me to believe that when a victim holds on to grievances, she is the one punished—not the abuser. Anger leads to bitterness, and both poison a person from the inside out. Forgiveness is not something that excuses the person in the wrong: it is a means for the victim to make peace with their past and go on to live their lives without dwelling on their pain.
According to From Rage to Courage, abuse victims need to dwell on this pain in order to "free" themselves. Without an explanation as to how this is accomplished, however, the book just sounds like an exhortation to permanent resentment, without any means to get to the next step of recovery. Perhaps Miller outlines this in her other works, but as a book considered in its own right, this one doesn't stand up.
Make no mistake: child abuse is horrifying, and probably occurs much more than is reported due to the helpless nature of its victims. I fully support awareness of this issue, as there is no doubt that child abuse affects people negatively all their lives. Alice Miller's collection of her own letters just seems a bit melodramatic to affect any change, and her goal seems more to increase her book sales than to offer solutions.