Reflective Girl Tee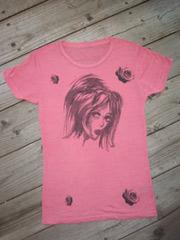 Boasting funky girl tees, Furlesque certainly delivers with the beautiful "Reflective Girl." Featuring a lovely drawing of a sorrowful (or the obvious "reflective") girl adorned with roses on the front of the shirt, this is one of the most original designs that I've seen to date. And I wasn't the only one to think so—I've never received so many compliments on a t-shirt in my life!
Sheer and lightweight, this tee was a grand slam in comfort. A funky and beautiful mauve color (called "cherry") was something that stood out to me. It looked like an almost heather rose and was completely unusual, which was great. This tee fit true to size, was perfect in length and the amount of attention that was given to the tee (even from perfect strangers) left me congratulating myself on a great outfit choice (and Maggie and Dion from launching such a successful operation).
These one of a kind shirts are great to wear on a casual day and I guarantee that your shirt will catch a lot of attention and be one of a kind. This alone justifies the $49 price tag. Even after a few wears and washes, it still looks brand new and has taken up regular rotation in my closet. Seriously—buy one of these shirts. You won't regret it.