Religion at the Corner of Bliss and Nirvana: Politics, Identity and Faith in New Immigrant Communities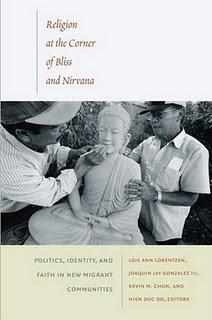 Religion at the Corner of Bliss and Nirvana, a collection of essays on the religious activities and identity formation of immigrants to the United States, is the fruit of a four-year study conducted by researchers from the Religion and Immigration Project (TRIP) at the University of San Francisco. Very ambitious in their scope, the essays explore the multiple and complex ways that religion plays both in integration and resistance to it in the second-generation immigrant youth and adults from Mexico, China, Vietnam, El Salvador, and Taiwan.
Two of the essays reflect on marginalized groups in their own countries: amongst them gay, lesbian, and transgender people. Immigrants from Mexico and El Salvador keep in touch with their communities across the border, frequently visiting their family and friends to maintain trans-national connections. Researchers focused on social justice by giving voice to immigrants' concerns, especially on matters of gender and sexuality.
Transgender sex workers from Mexico often bring their religious icons and pendants (for example, the Virgen de Guadalupe) to San Francisco. Some of them also bring their prayer booklet for the Holy Death. These relics signify their own culture, origins and religion left behind in Mexico.
There are many low working class immigrants from Latin America who attend a mass conducted in Spanish in the Pentecostal churches. They are encouraged to be exemplary citizens in their new country, to ask questions, to give testimonials and to pray for surviving their daily life struggles. Even though the church music is similar to cumbia, merengue and samba the members believe that this 'culture' is secondary to the culture of Christianity. Through social movements, the Pentecostal churches help immigrants to adopt a more tolerant and progressive attitude towards gender roles or childbearing duty.
Filipinos are mostly Christians, following the rituals and dogmas of the Catholic church, brought to their country by Spanish friars or religious orders such as the Order of Saint Augustine in 1564, the Jesuits in 1581 and the Dominicans in 1587. With the American occupation of 1898 the Protestant church was founded in the Philippines. Yet the faithful there created their own Global Church of Christ where reading the Gospels was of main importance. In San Francisco, Filipinos are mostly associated with the Catholic churches in the area known as "Happy Valley."
Bi-national same-sex couples, illustrated by the case of two men from China and Singapore, can easily find the gay church in San Francisco. It is much more than the centre of a religious community; it advocates human rights for new lesbian, gay, and transgender immigrants.
The Presbyterian Mission Program targeted low-income, first generation Chinese youth residing in San Francisco's Chinatown and Bay Area suburbs whose families originate in Taiwan and mainland China. There is also a Buddhist temple that serves as a network for the monasteries, schools and Buddhist book publications. Vietnamese American migrants have a Buddhist temple in San José, California, home to the second-largest concentration of immigrants from Vietnam in the United States.
Chinese-American venerated a goddess from the vast Chinese folk pantheon. She is known by her imperial title of Tianhou although her more familiar name is Mazu/Mazupo. The cult of Tianhou is based on the worship of a maiden named Lin Moniang who is said to have lived from 960 to 987. She had magical powers and was transformed from a mortal girl to the Empress of Heaven. In 1986 Taiwanese-Chinese immigrants established a temple to Tianhoe/Mazu that symbolically marks the collective identity of Asian immigrants.
The current study is very well researched and employs up to date theoretical frameworks. The immigrant acculturation theory explores the multiple religions, cultural and national identities in a language accessible to both academics and non-academics.
In spite of its tremendous and ambitious goal, Religion at the Corner of Bliss and Nirvana is not difficult to follow its daunting 372 pages. The writers did a fantastic job by reflecting on the different religious practices of the wide variety of immigrants in San Francisco. I was pleasantly surprised that such a difficult and complex theme kept me absorbed at all times.