The Resurrection Trade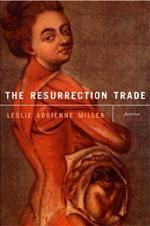 The Resurrection Trade is a collection of poems that details early anatomical research performed on female corpses from the point of view of the author, Leslie Adrienne Miller, who also provides glimpses of her own life as a daughter, a wife and a mother. There are over 44 poems in this collection, and taken together they create a rich tapestry about "the resurrection trade," which is "the business end of trafficking in corpses," and Miller's experience in writing about it.
Miller conducted extensive research of historical documents and medical illustrations in studying this process, and she includes a multitude of resources in the notes section that were used in writing the poems. (Visiting the notes section is highly recommended while reading through the book.) All of this research lends a weight and authenticity to the poems that reminds the reader at every turn that the bodies, the people described, actually existed. At the same time, the reader is made aware of the way that women's bodies were objectified in this process.
One poem, the title poem, is divided into stanzas that describe mezzotints, colored prints, Miller viewed. The most difficult poem to get through due to the graphic nature of the topic; this poem depicts corpses in different poses and at different stages of "undress." For example: "She entire, arm raised, profiled looking left,--unwrapped entirely of skin except for two--breasts, neck and one greeny cream of shoulder." Miller highlights how the bodies of women are still sexualized in death and dissection.
Equally disturbing but fascinating is "Mother and Son," in which Miller makes comparisons between the bombing of the twin towers and a mother's diseased body to help a son understand impermanence. "He'd seen the footage at school that day,--heard the talk meant to help him 'process,' and yet,--he couldn't help himself: he had to ask his mother—to put her body up."
The poem "Parous in Paris" brings together the reality of studying corpses and Miller's life. She writes, "I've left my only child--home in another country for this walk--into a history of the body of woman--in labor,…the coppery scent of formaldehyde--sticking in my throat, I fight down--the unthinkable news delivered--at dawn via e-mail: someone else--is in my marriage bed,…"
[The Resurrection Trade(http://www.amazon.com/gp/product/1555974635?ie=UTF8&tag=feminrevie-20&linkCode=as2&camp=1789&creative=9325&creativeASIN=1555974635) is a revealing look at the one of the ways women's bodies have been constructed over time through the eyes of men. The book remains grounded through Miller's writing of her present day experiences that contain the humanity that is lacking in the tinted prints she has studied.