Return to the Land of Wonders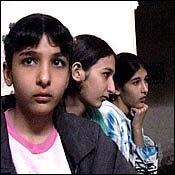 I was riveted by Maysoon Pachachi's documentary about her homeland: Return to The Land of Wonders. She returns to Baghdad after a thirty-five year absence, soon after the U.S. invasion. The Baghdad she brings to the viewer is not one seen on CNN; she offers a rare insight into the committee (headed by her father, Adnan) working on the drafting of a temporary Iraqi Constitution and Bill of Rights. Their struggle to retain their dignity, their customs and laws and, especially, the right of habeas corpus is difficult as they are required to comply with the dictates of both Washington and their own sectarian leadership.
Iraqi women are extremely interested in the form the new regime will take, and their frustration is noted by one who states: "The security situation fills us with fear. If Iraqi women can't move about freely, can't express their opinions freely, can't protect themselves and their organizations, then how can proper elections be held?"
This theme is explored further for this issue of security is not just about being assaulted on the street, though that happens; it is about the fallout of extremism. Unveiled women are harassed on the street, robberies abound and never has it been more important to have laws that guarantee and protect their freedoms and rights. As one woman put it, "I don't want to be forced to wear the political veil."
Other aspects of Baghdad are presented. A man imprisoned for thirteen years after the Ba'ath party came into power tells how he retained his sanity by translating novels into Arabic. Placed in solitary confinement for five years, knowing men around him were hanged every day, he found strength in his faith and belief in his own innocence. The first novel he translated was John Steinbeck's comedy, The Short Rein of Pippin IV; he went on to translate seventeen more novels during his incarceration.
There is dire need for medical aid, a situation which has only increased. One man asks for better needles for injections for his daughter, a mother for medicine for her jaundiced child. Hospital personnel are threatened with guns when they try to enter the medical facility and landmines have been found at those entrances as well.
Maysoon Pachachi has produced a beautiful, thoughtful documentary about the homeland she loves that still holds wonders for its people. I would highly recommend this film be shown at gatherings for anyone concerned about the U.S. presence in Iraq.