The Road Home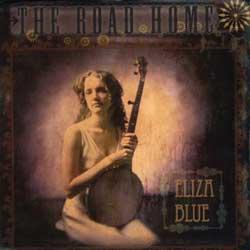 When I opened my package containing Eliza Blue's album The Road Home, I was greeted with a little bit of Southern hospitality; the CD was wrapped in a piece of twine and included a hand-written note saying, "Thanks for listening, hope you enjoy!" I felt comforted by that note. It was a little wave "hello" from home, and more than that, a connection between artist and audience. When I popped in the CD, I was immediately drawn in and stopped whatever inconsequential thing I was doing at the moment. The soothing meandering of a folksy style met with the bluegrass accoutrements of banjo, fiddle, and guitar, but it was Blue's voice that made me pause.
Blue's voice is smooth, with something deeper, thicker and something nostalgic—an old yellowed book sitting in afternoon sunlight, a glass of sweet iced tea, and for me, the sound of home. Her intonation and velvety middle range are reminiscent of Allison Kraus, but her tone is darker and earthier than Kraus' ethereal sounds. I found myself playing this album on loop for days on end, getting lost in her voice. "Oceans & Fields" and "Mending Fences" were lovely in their acoustic melancholy, in the pizzicato ostinato and weeping duets of violins. "Gospel Song" pays tribute to the religious origins of old time, bluegrass, and country. I could spend more time describing the pieces, which are finely crafted, but I, for once, had difficulty capturing the aural experience in words without sounding contrived and thus doing the album injustice.
Eliza Blue is a versatile and pioneering artist; many of the instrumentals are played by Blue, and all songs are original compositions. It is a self-produced, self-promoted album to boot; this is actually her third album to date, having already garnered much attention in the Minneapolis area. This bluegrass/folk amalgamation is a beautiful accomplishment, an album of thoughtful, layered pieces where the lyrics and instrumentals are equally captivating.