Saints & Cannibals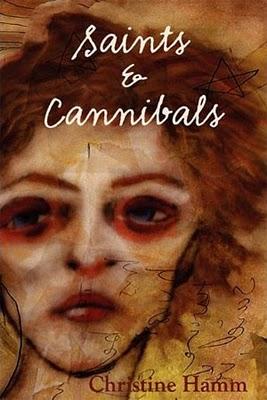 If I were to list my favorite poets, the count would be long and span a modest range of styles, but several rise clearly to the top. These poets—Sharon Olds, Carolyn Forché, Sylvia Plath, and Audre Lorde, to name a few—in no way shy away from subject matter women are traditionally taught to suppress or deny: the shocking, shadowy, and infinitely juicy reality of our lives. These poets instead dive face first into the truth—especially when it hurts—and in doing so shed light on the beauty to be found glimmering quietly in the fertile mud of actual experience.
Christine Hamm is one such poet and needless to say, my list of favorites has grown after having (repeatedly) read Saints & Cannibals, Hamm's second full-length collection. According to the poet's website, "this book follows the story of three generations of women in America" and is told from the point of view of "historical and mythical saints and cannibals, including the Donner party, Hansel and Gretel, and a whole host of medieval female saints."
Among the historical and mythical are more contemporary voices, all of whose stories are told in clean, vibrant free-verse. Fertility, corn, straw, cats, horses, and other animals figure prominently in the landscape of this collection. After reading each poem I was compelled to set the book down and let the precise and novel imagery sink in.
Beginning with "Up From the Root Cellar": "Ruby plucks up a tomato, jams it against her teeth, tasting snow and rust" before shaking out her skirt, rinsing her hands and going to assist her mother as she "sprawls in the furrows... stockings dark with a wet rush" in labor with yet another baby. Ruby is dutiful but seems defined more by her internal experience than by her station or obligation in life.
Another character, whose story is told throughout the collection, is Claire, who in the poem "The Family Practice" doesn't want to disappoint and so undergoes dentistry without Novocain. Yet "Claire was turning thirteen the way milk turns, becomes thicker, more complicated, fragrant;" will she continue to submit to what is expected of her?
We also find Joan of Arc working at the Gap, Oliver with his "urchin shirt/ rusty shoes, hat full/ of night and spiders," and a suburban angel "with wings made of safety pins/ used tampons and bottlecaps."
I found Saints & Cannibals to be deeply feminist as it speaks with an authentic and unapologetic honesty, telling stories that have the power to provoke an embrace of and ultimately sovereignty in our own experience.