Scrappy: A Crafty Zine for Scrappy People, #1: Stitches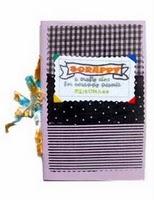 A couple of years ago, my grandmother gave me her sewing machine (circa 1940). Have I used it? Hardly. To hem a pair of pants a year or so ago. So I was thrilled when I was chosen to review Scrappy: A Craft Zine for Scrappy People, #1 Stitches. Perhaps it would be just the push I needed to unveil Grandma Betty's machine and get to creating fabulous, designed-by-moi outfits!
Scrappy is an adorable handmade zine that is perfect for the beginner seamstress (or the hibernating one) looking for a little inspirational shove. Niku, the author, started sewing because she was unable to find a pirate skirt that "would fit a more voluptuous figure." Scrappy was born out of her love for crafts, and Niku decided to dedicate the first issue to sewing since it's one of her "favorite crafty activities."
She explains the basic stitches – the blanket stitch, the whipstitch, the running stitch – and the basic tools – an iron, scissors, pins – necessary to begin. From there, the rest of the zine is dedicated to a number of simple and sassy projects: a reconstructed cardigan, all sorts of cozies (toilet paper, zine, tampon, and vibrator), curtains, and the de rigueur headband.
Visually, the zine is a joy. Xeroxed onto lavender paper and tied together with a fuzzy black string, it's both typewritten and handwritten with old photos and vintage clip-art interspersed throughout, so even if you don't want to sew, it's still fun to look at.
Some of the illustrations are a little confusing (Niku admits she's not an artist), but with a little experimentation, I think most folks could figure it out (She also includes her email address, so you can always drop her a line to ask for an explanation). There were a couple of pages that were out of order, and that was mildly annoying, but it's a zine. That's all part of the charm.
Scrappy is no hardcore instruction manual (a la Martha), thank God. It seems that the point is to explain the basics and then serve as inspiration. Niku admits that she rarely uses patterns, and instead "mostly goes by feel and makes it up as she goes." So if you're looking to get into improvisational sewing, then Scrappy is the zine for you.
Now, if I could just figure out how to turn the damn machine on.